OUT-OF-THIS-WORLD TRAIL RUNNING
SPACEROCK: the final trail running frontier.
These are the voyages of trail runners around the world.
Your mission: to explore strange new trails, to seek out new life and new experiences, to boldly run where no one has run before.
Experience the exotic trails and sights of the world-famous Vasquez Rocks Natural Park in Southern California. Known as the backdrop from popular TV shows and movies including Star Trek, The Flintstones, Battlestar Galactica, Planet of the Apes, and many of our favorite classic westerns films. Now get a spectacular experience running the trails at the SPACEROCK Trail Race!
LANDMARK
Run the trails at the world-famous Vasquez Rocks, a iconic location unlike any other in California.
Alien Lands
Vasquez Rocks features unique rock formations and canyons that feel like your running on an alien planet.
Black Hole
Experience the darkness of running into the black hole tunnel taking runners to a new world to discover.
Challenging
The Half Marathon trail race features a very challenging course with over 3200 feet of elevation gain & descent.
RACE DAY: SATURDAY, OCTOBER 22, 2022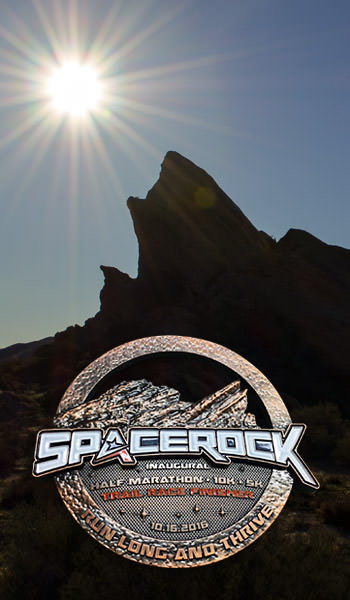 Race through the spectacular trails of Vasquez Rocks, PCT, and Agua Dulce on a challenging Half Marathon, 10K, or 5K course.
What Runners Are Saying...
Catherine Christ
Incredible race experience with an amazing group of volunteers. Very well run race and can't wait to sign up for next year!
Alex Blecksmith
The scenery, landscape and elevation made this a challenging and memorable race.
Janet Dempsey
I ran the inaugural Spacerock trail half and the course tough and beautiful! Everything from packet pick up to course markings was perfect. A must do every year!!!!! Great job and thank you!
Race Day: Saturday, October 22, 2022
Register today to secure your spot, then start training for an out-of-this-world trail race!
We are currently accepting sponsors for the 2022 race, grow your business as a sponsor at the 6th annual SPACEROCK Trail Race!
Thank you to our 2021 race sponsors, their support helps make a spectacular race experience for you. Please take a moment to visit each one.