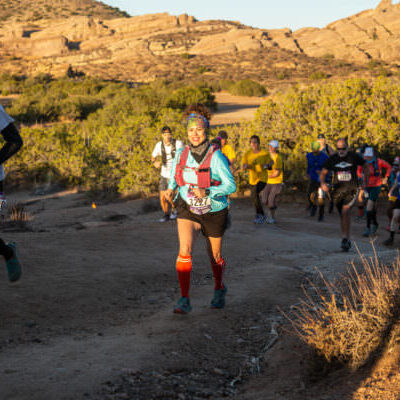 FRIDAY - 1:00 PM - 4:00 PM

EARLY CHECK-IN

Skip the race day rush and check-in on Friday to get your bib, spectacular shirt, and retro sci-fi bag 👜👽 while getting a great preview of the course and beautiful Vasquez Rocks Park.

WHAT: Early Check-In & Packet Pick-Up
WHEN: Friday
TIME: 1:00 PM to 4:00 PM
WHERE: Race Festival - 10700 Escondido Canyon Rd Agua Dulce, CA 91350 (take a LEFT at the stop sign and follow all the way to the end).

SATURDAY - 6:00 AM

EVENT PARKING OPENS

We highly recommend carpooling with your friends and other runners to help save the limited parking spaces.  Thank you! 

General Parking: $10 Cash
VIP Parking: $40 Pre-Paid

SATURDAY - 6:00 AM - 7:50 AM

LAST MINUTE CHECK-IN

Race day check-in for anyone who didn't come to early check-in on Friday. 

SATURDAY - 7:30 AM

HALF MARATHON START

SATURDAY - 7:40 AM

15K START

SATURDAY - 7:50 AM

10K START

SATURDAY - 8:00 AM

5K START

SATURDAY - 12:30 PM

RACE FINISH

Cut-off for Half Marathon distance.  All races finished and event ends.
Race Day: Saturday, October 5, 2024
Register today to secure your spot, then start training for an out-of-this-world trail race!
We are currently accepting sponsors for the 2024 race, grow your business as a sponsor at the 8th annual SPACEROCK Trail Race!
Thank you to our 2023 sponsors for helping to create a spectacular race experience!