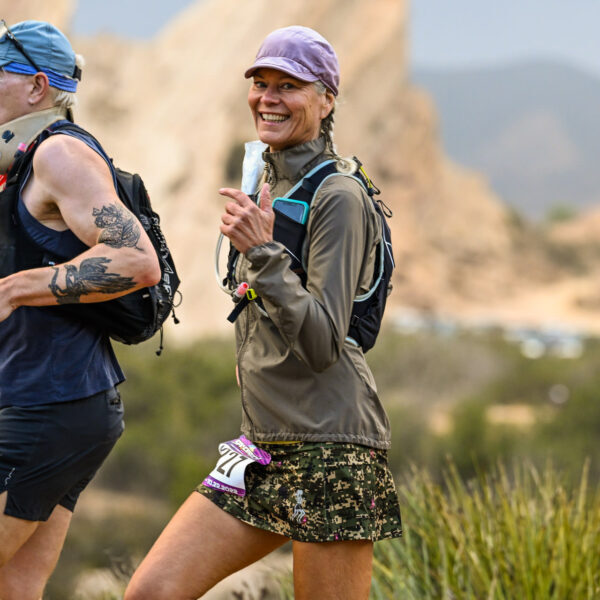 Ann Bergstrom
Everything about this race was right. Well organized, easy parking, great course and beautiful scenery. Loved it!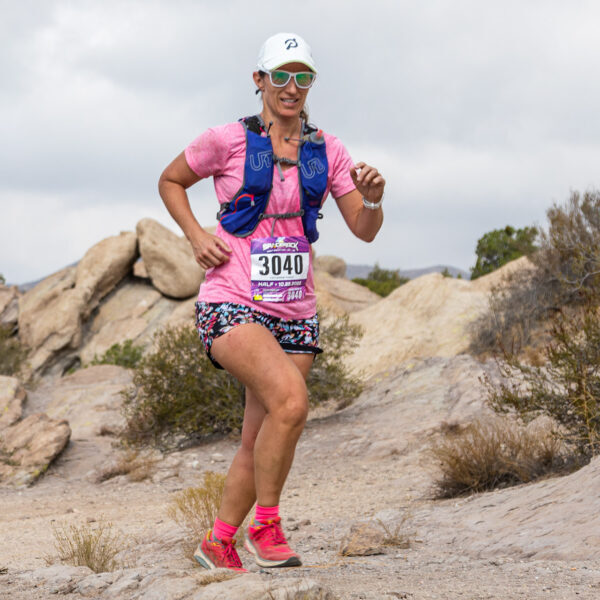 Catherine Christ
By far my favorite race, it's so challenging but so fun & rewarding. I love the volunteers and love the course. Everyone, runners and volunteers alike, are so kind and happy. The whole process, from getting your gear to finishing the race and follow up emails & photos are just amazing and makes me want to come back year after year!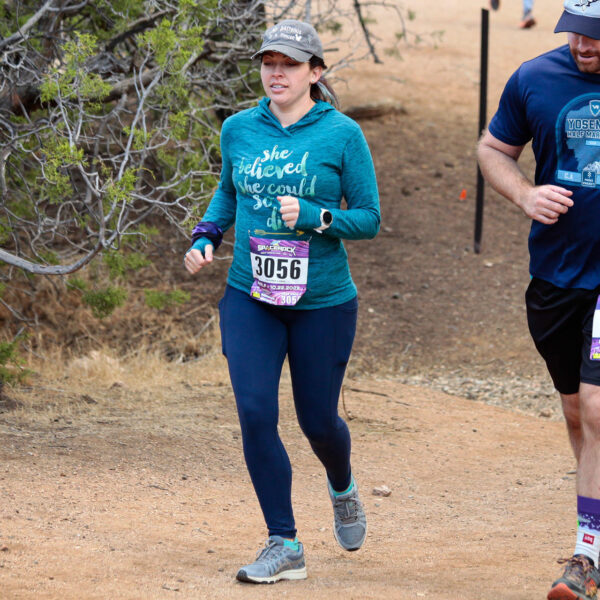 Tiffany Lamb
Spacerock Trail Race is no joke. This is not a casual race to just get out there and run. You NEED training and you NEED strength to climb. But it was the most fun and welcoming race I have ever done. I felt like part of a race family and it was my first time ever. Each volunteer was extremely supportive. The course is very well marked and the aid stations are very nourishing. Very well put together race and super informative emails sent leading up to race day.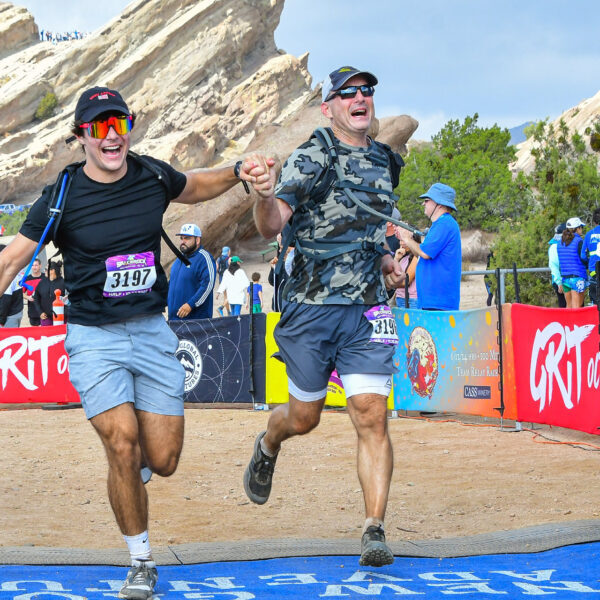 George Bock
This was my first time running Spacerock Half Marathon and it did not disappoint!!! It was everything I was expecting and then some. Beautiful location, VERY challenging and great people and am looking forward to next year.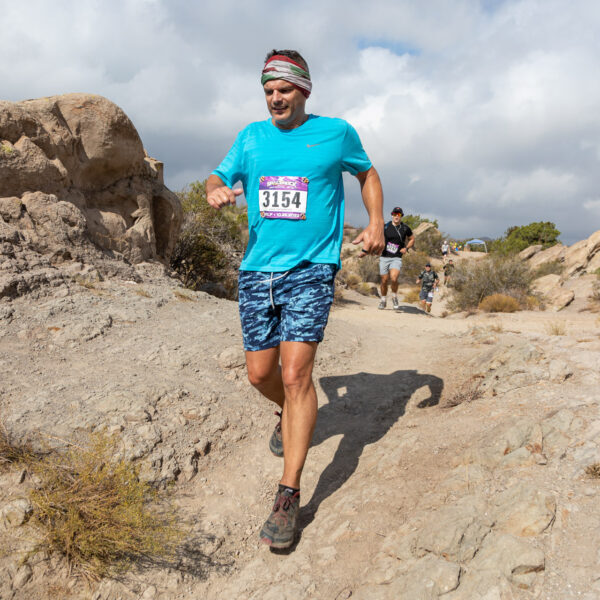 Louis CoffeeMeyer
I mean, homemade mini-cookies after the Mega Hill? I'm already signing up for next year!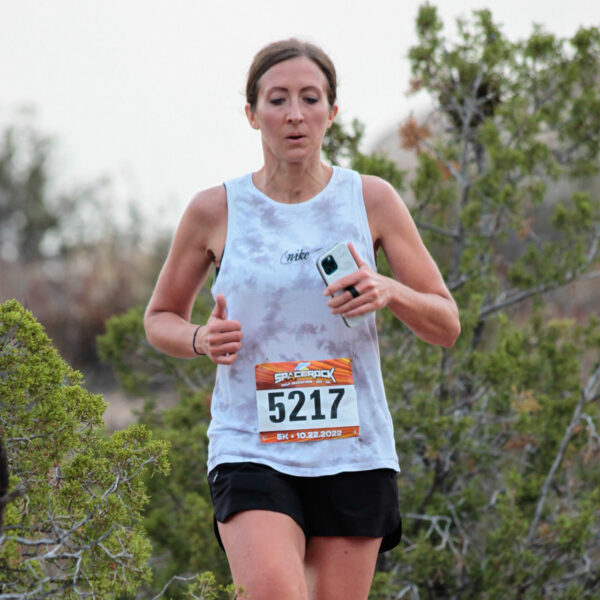 Hailey Clark
Great race! The scenery was beautiful. Very difficult hill climbs but worth it.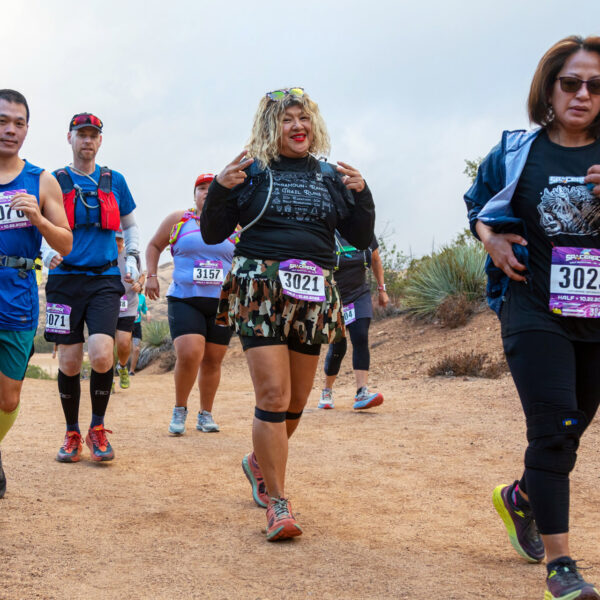 Luisa Rivas
Spacerock gives you a majestically feeling as if you are in Nirvana!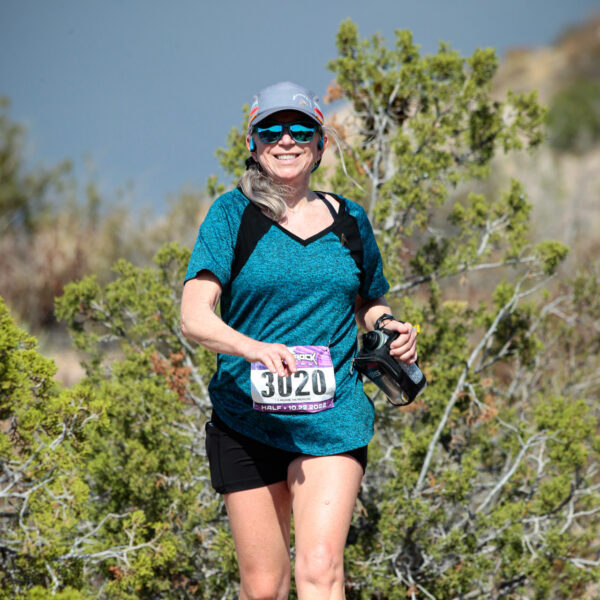 Laurie Hendron
Finally got the chance to run SPACEROCK Trail Race Wow.wow.wow. So challenging - the climbing was intense! But at the same time, it was gorgeous with such interesting terrain. And there was some downhill single track that was a blast! I highly recommend this race .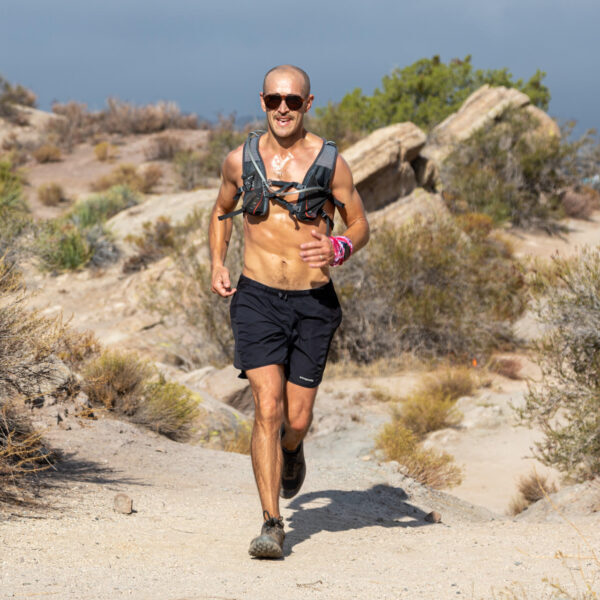 Thomas Post
Epic trail run. Challenging terrain and beautiful rock formations everywhere you look. Those last 2 miles hit like a mo fo… It ain't over till a dancing dinosaur gives you a high five!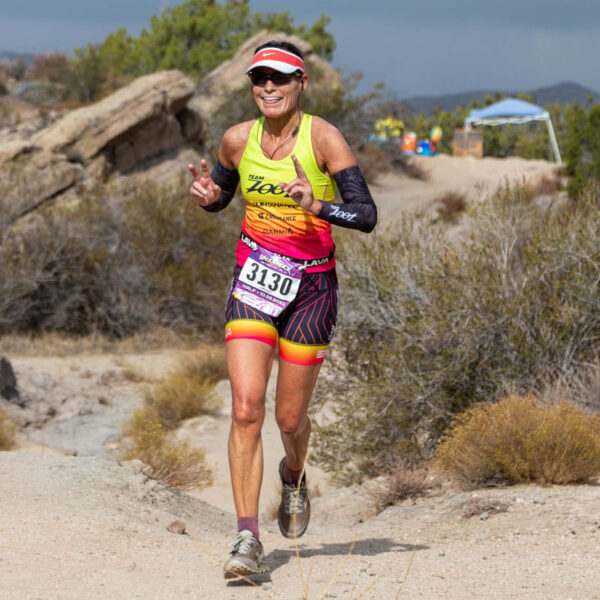 Lara Ray
If you're looking to challenge yourself, then you've come to the right race. Steep hills, single track trails, dark tunnels, unpredictable weather...you need to come prepared for anything and everything!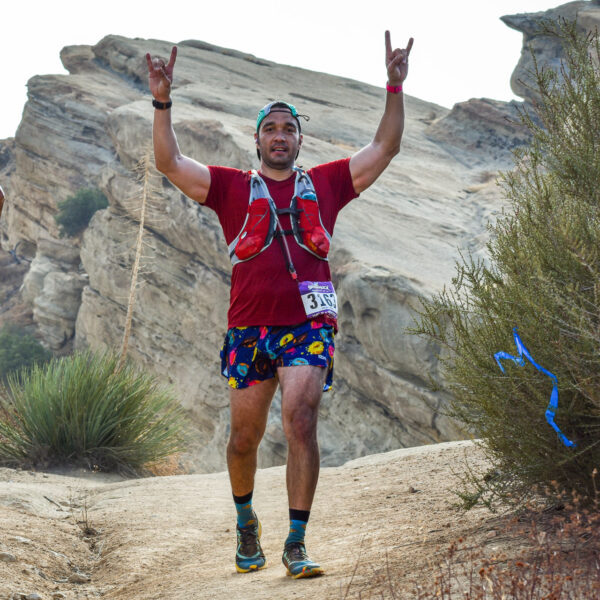 Oscar Torres
A great trail race with amazing views.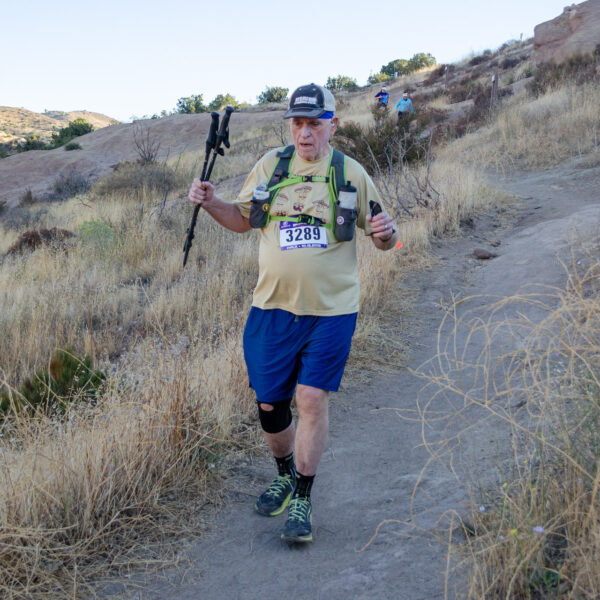 Roy Peterson
Having climbed those hills the past 3 races, I volunteered this year as I regularly volunteer at Valencia and thought I would see how things went at Spacerock from the other side. I had a twinge of jealousy as the runners came across the finish line. But the volunteers I met and the excitement as I was able to cheer on the runners were more than enough to overcome that twinge. New Global Adventures puts on the best races and I look forward to being a part of them for many years to come, both behind the scenes and on the trails.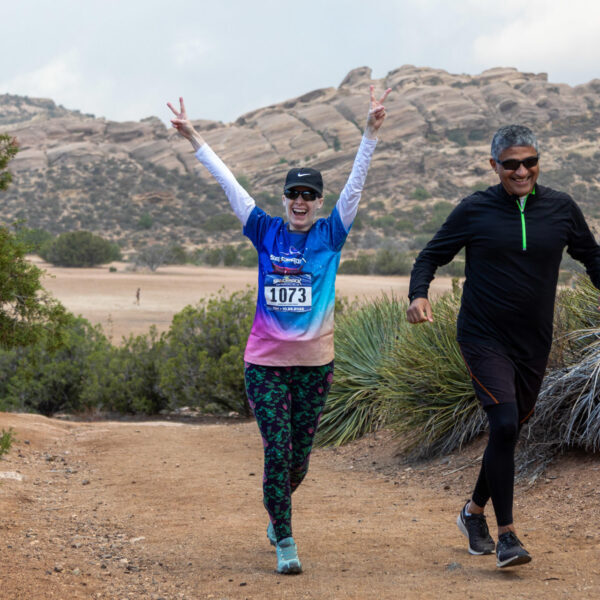 Sabrina Percario
This was my first time as a runner! Spacerock trail race made my first experience a wonderful time! It was incredible! Can't wait for my next time.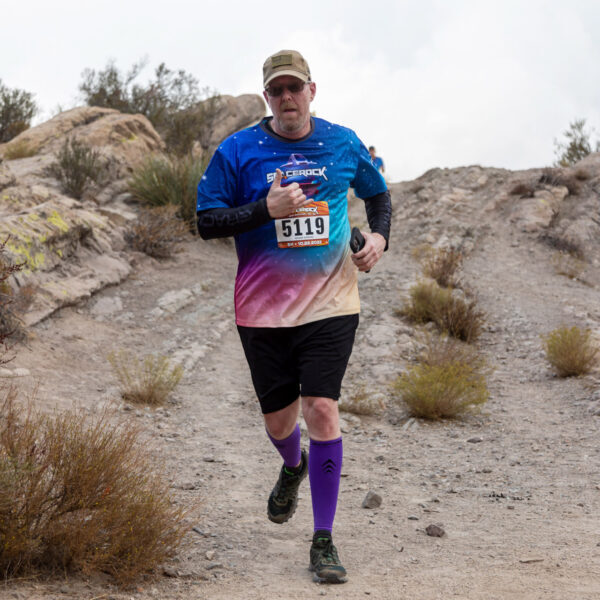 Roger Strong
Fun, challenging course! Get out there and try this race!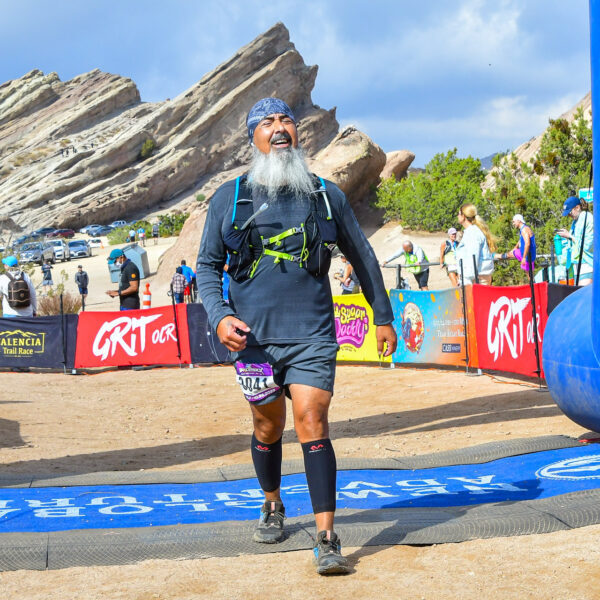 Daniel Castillo
BRUTAL BUT FUN HALF MARATHON!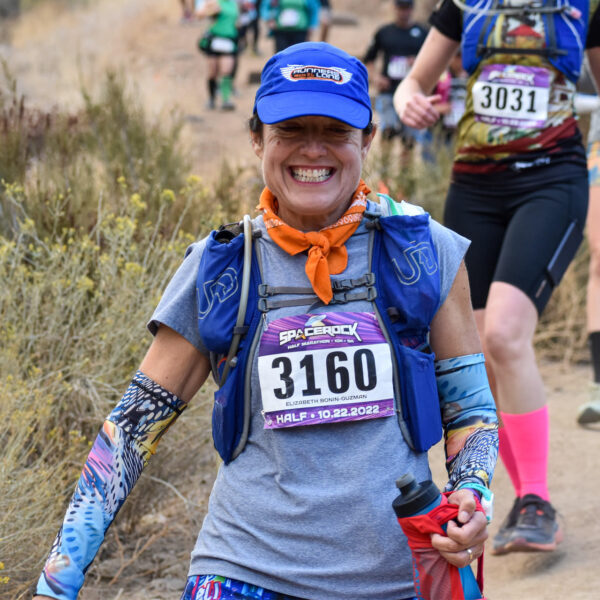 Elizabeth Guzman
Great race! I would definitely run it again. Hilly.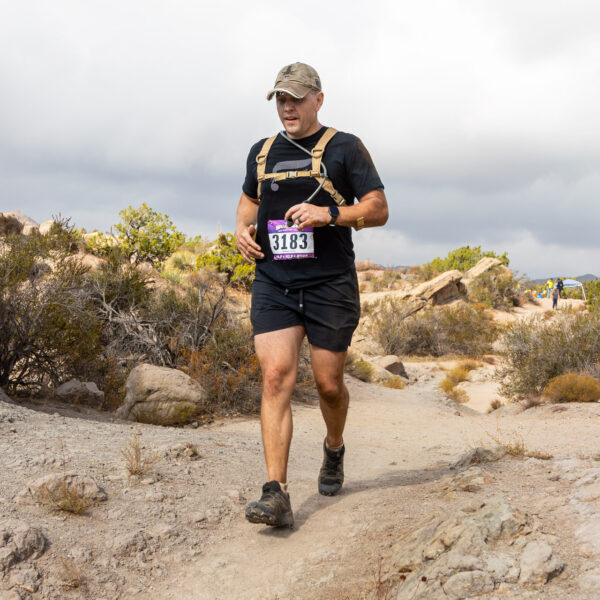 Dennis Dyer
This was my 1st time running Spacerock, but it won't be the last! It was an amazing time! The crew was absolutely wonderful. They were friendly, helpful, and motivating. The half-marathon was a challenging, but beautiful course. Thank you to all the crew!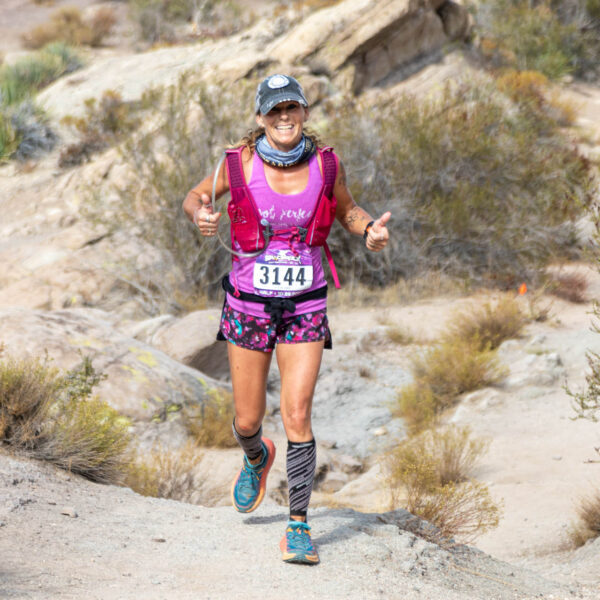 Sylvie Dier
Keep fighting up the hills!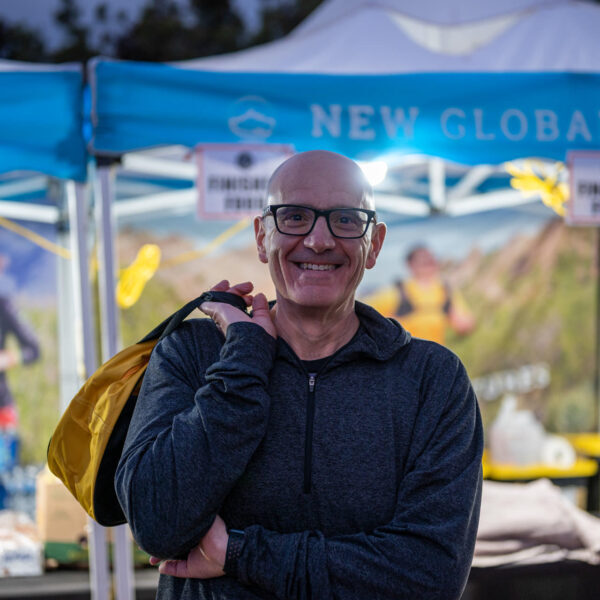 Phillip Aronoff
This is a great event, and the course is very challenging.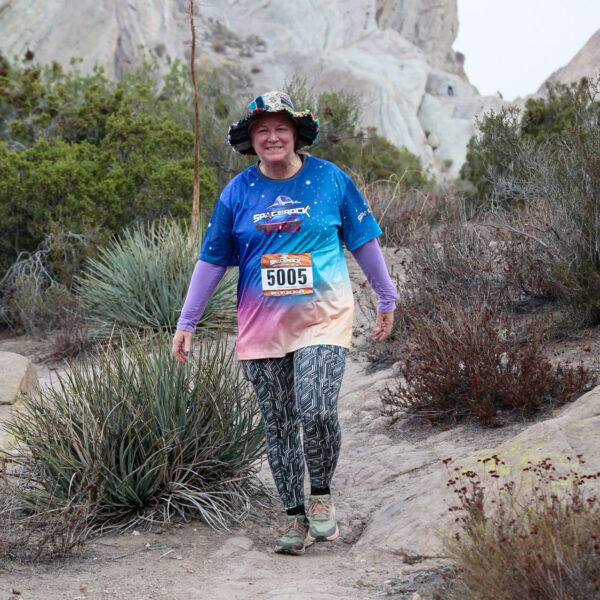 Kate Townsend
Another super race! I haven't missed one yet and have had a great time at every one!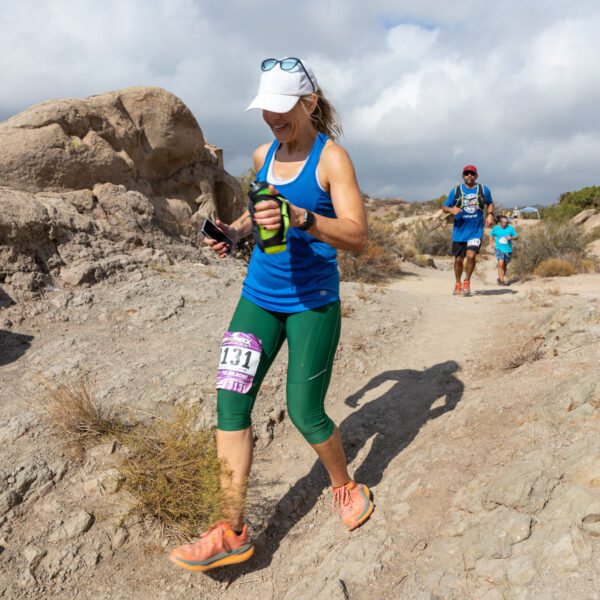 Maria Elena Lopez Cattini
Once again, a wonderfully well run, fun, and challenging race. Can always count on these guys to put on a great event!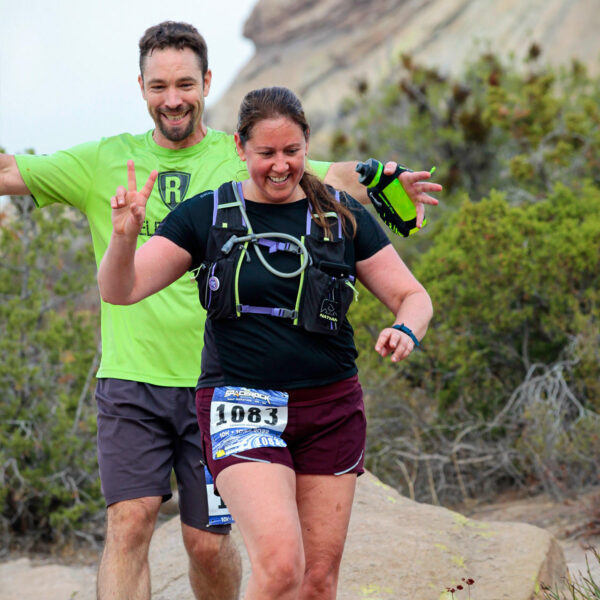 Genesis Barnes
Such an awesome vibe with incredible views.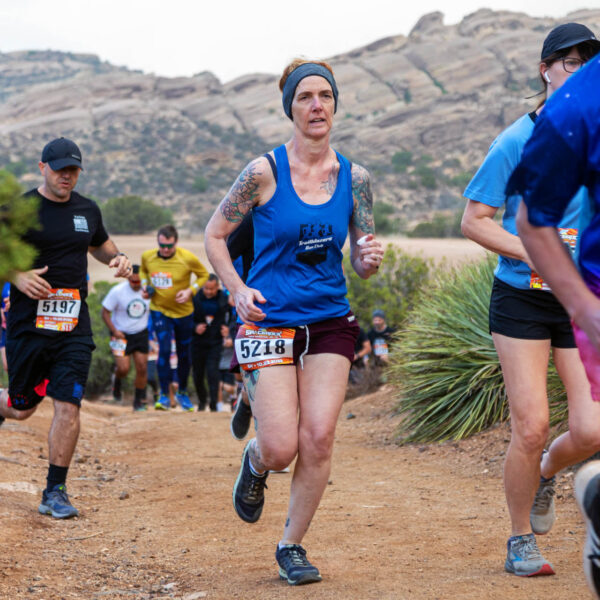 Holly Baxter
Once again, a wonderfully well run, fun, and challenging race. Can always count on these guys to put on a great event!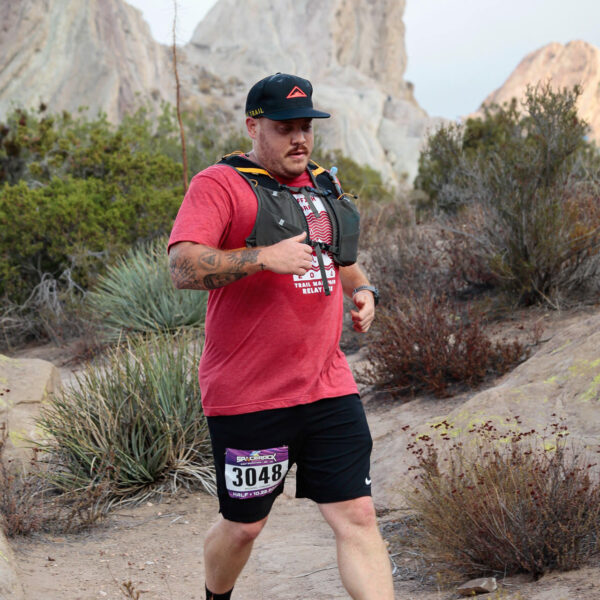 Michael Coburn
The whole experience was amazing. The event was well organized and the volunteers were definitely out of this world. Can't wait for next year.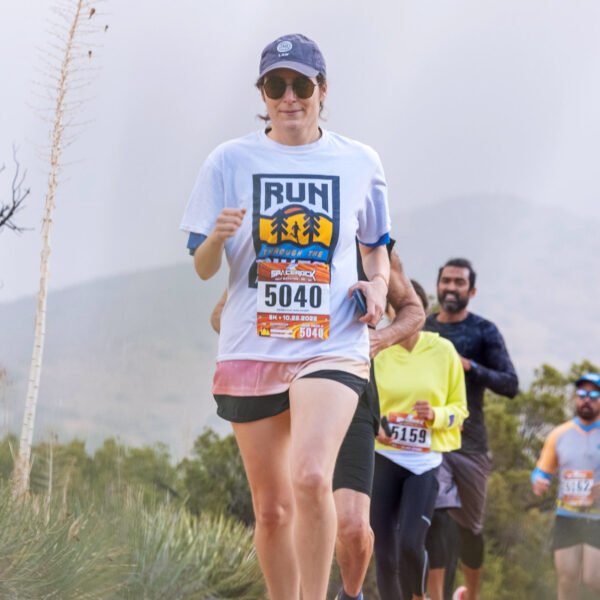 Rebecca Waldorf
My first trail race, and I've gotta say, it set the bar super high. Spectacular views. Friendly and helpful volunteers. Positive, supportive energy from other runners. Such Good Food!! Will absolutely be making this an annual part of my calendar. Thanks for putting on such a fun event!!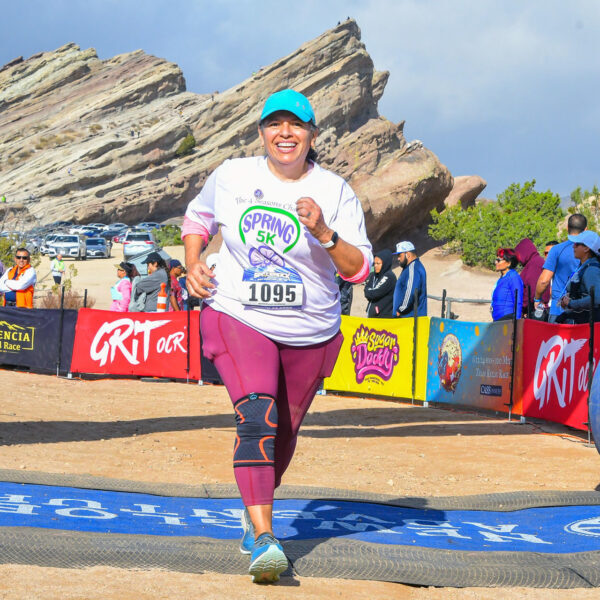 Marcella Guzman
This course made me earn this medal! It was tough, but great! The views were just amazing. I am so glad I did it and that I stopped to look up every now and then to take it all in.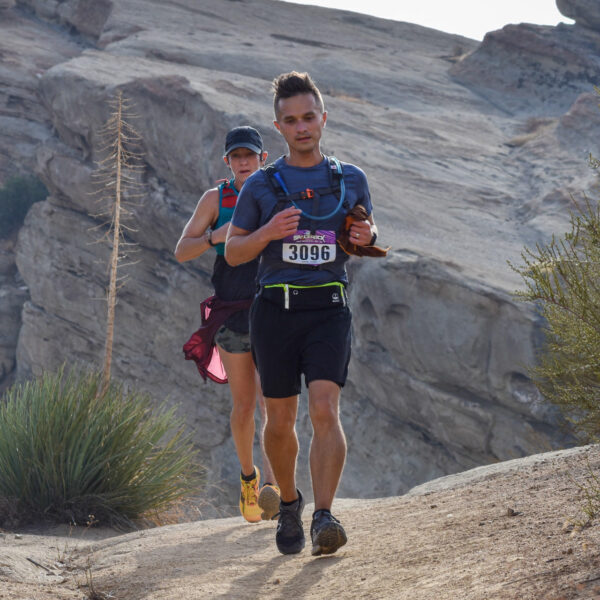 Pavel Tumik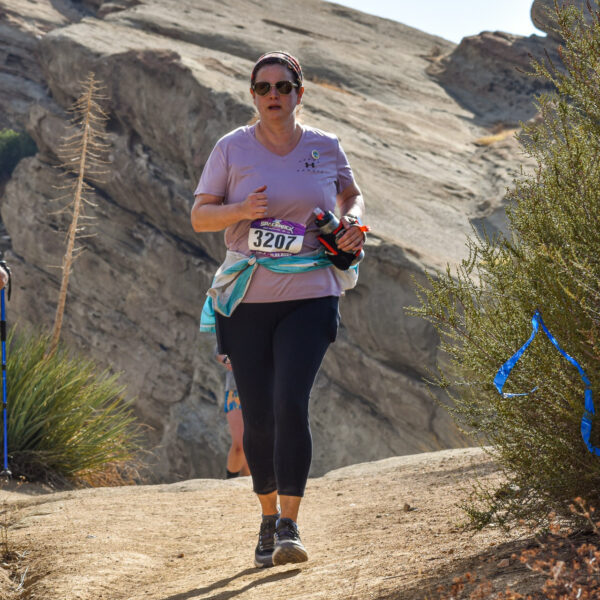 Wanetta Roetcisoender
I loved seeing runners of all ages and abilities out there giving it their best. Trail runners are some of the nicest people!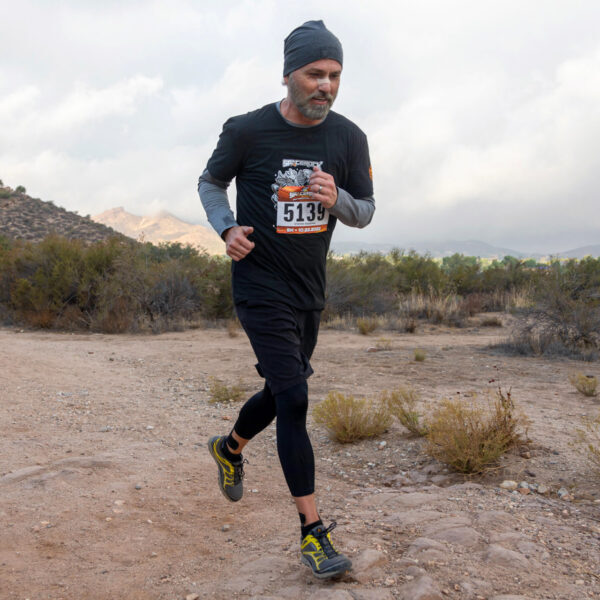 Steven Sessions
Had a great time. Thanks to all the organizers and volunteers!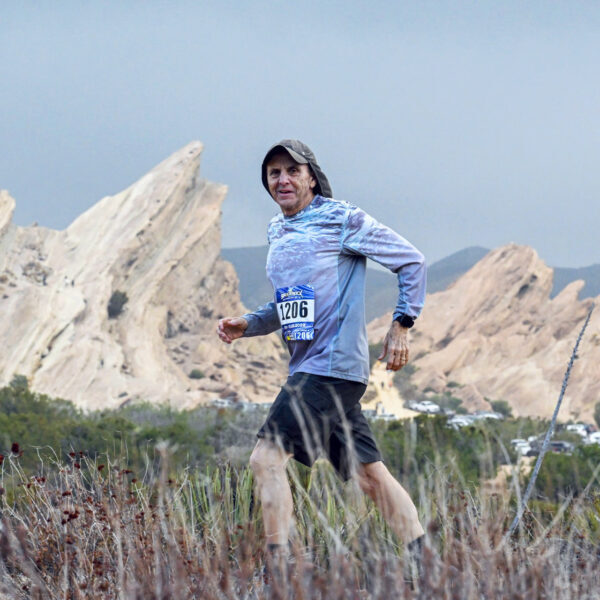 David Neill
Race well run all runners seemed to be in a very happy mood. Course directions and sign were perfect.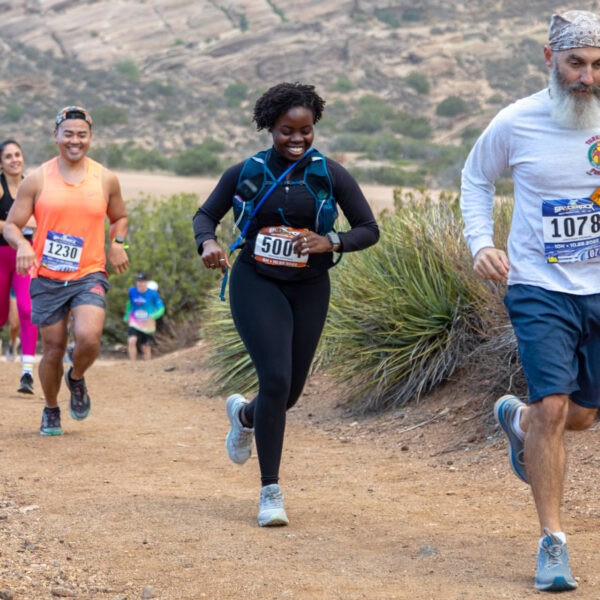 Mazvita Ngorosha
Very well organized and easy to navigate, Thank you for a great race! Looking forward to next year!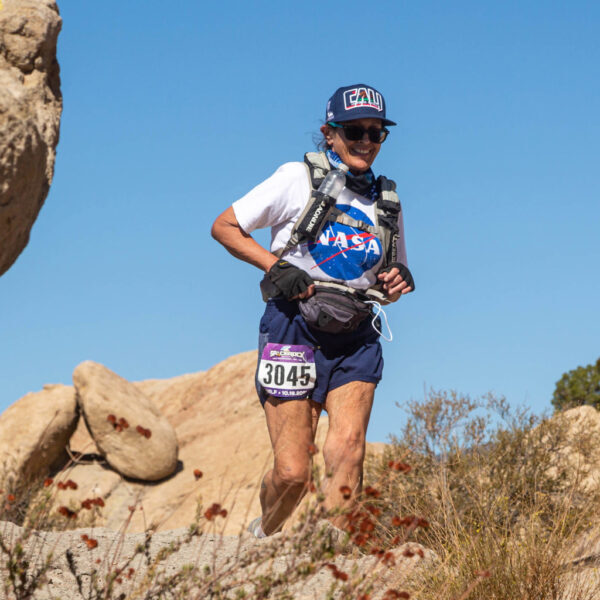 Laura Rosa
I found this race to be very similar to Sean O'Brien. I'm a winter/spring racer so this race isnt quite my season but YOU GUYS THROW A HELLUVA RACE and your swag is top notch!!!😁👍🏃‍♀️🏃‍♀️🏃‍♀️🏃‍♀️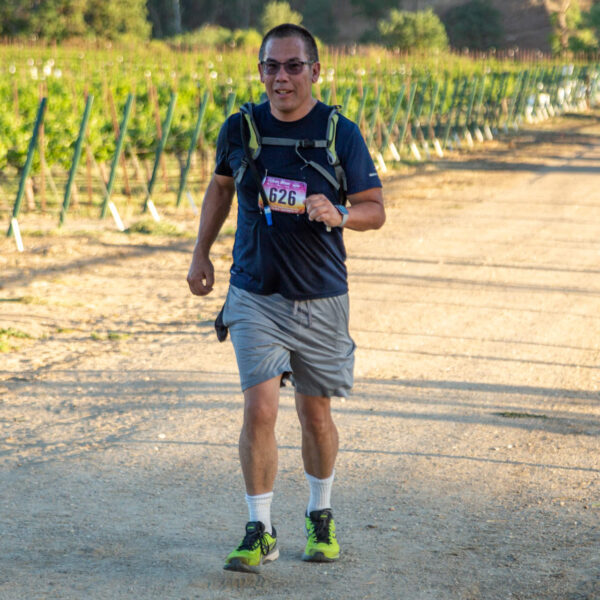 Vince Kondo
Awesome run with efficiency and class. Great Swag, runner support, food, and hospitality.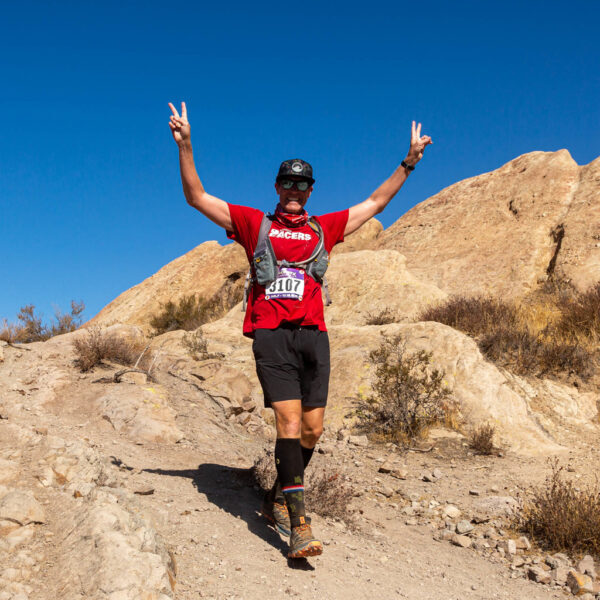 Ezra Weisz
I absolutely LOVE Spacerock. Watching the sun rise at Vasquez Rock to start an amazing and difficult half Marathon course is addicting. I'll keep coming back. The vibe is out of this world.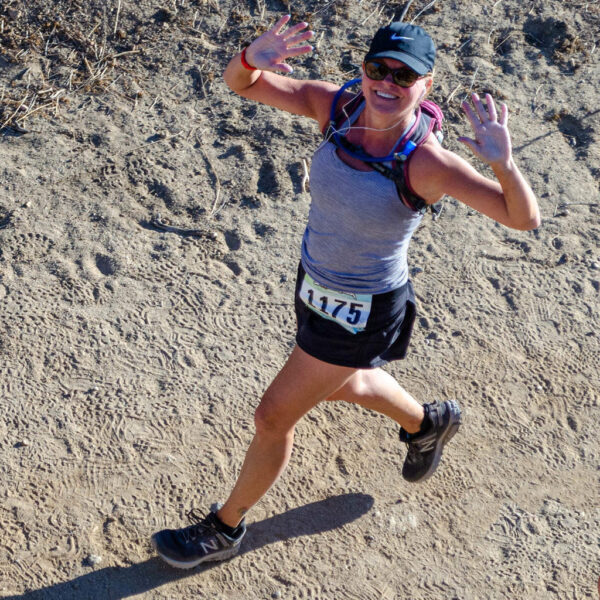 LaRisa Chambers
An incredibly hard, but awesome race!!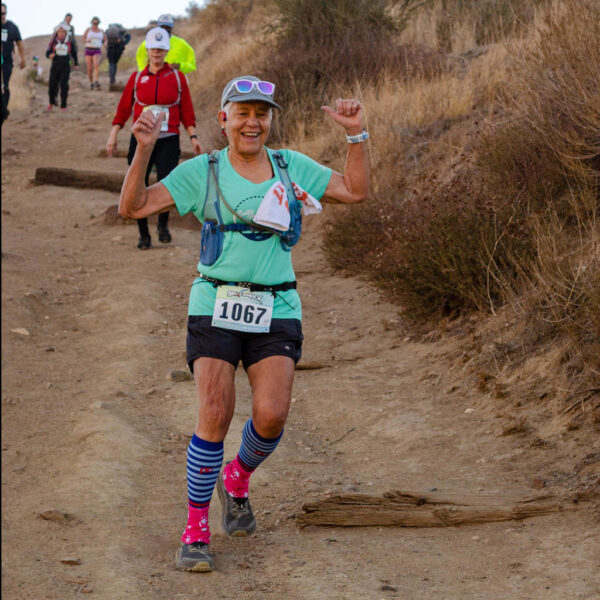 Evelyn Brown
It was wonderful seeing friends before, during and after the run. The 10k course has great scenery, some challenging terrain. I try to make Spacerock and annual event.
Lara Ray
This race is not for the faint of heart. It is super challenging. Come prepared for hill climbs & more hill climbs.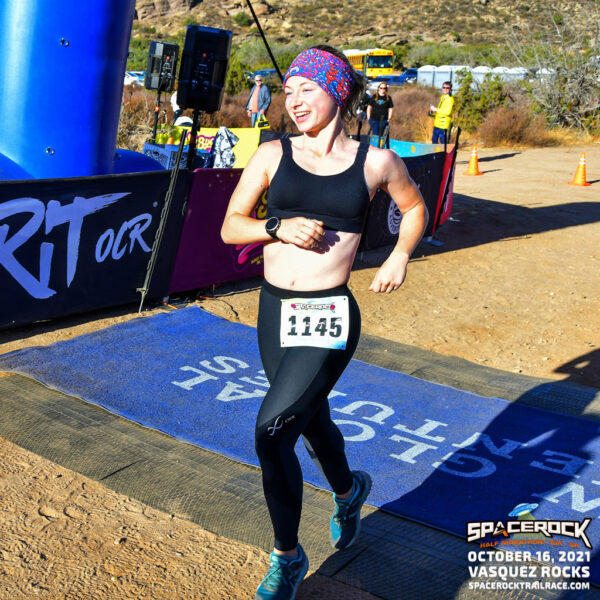 Bri Meyer
A challenging and fun course. Everyone from the volunteers to fellow runners made it a fantastic race day!
Anna LaMar
Spacerock is always fun - in a group or alone. You'll make new friends and enjoy beautiful desert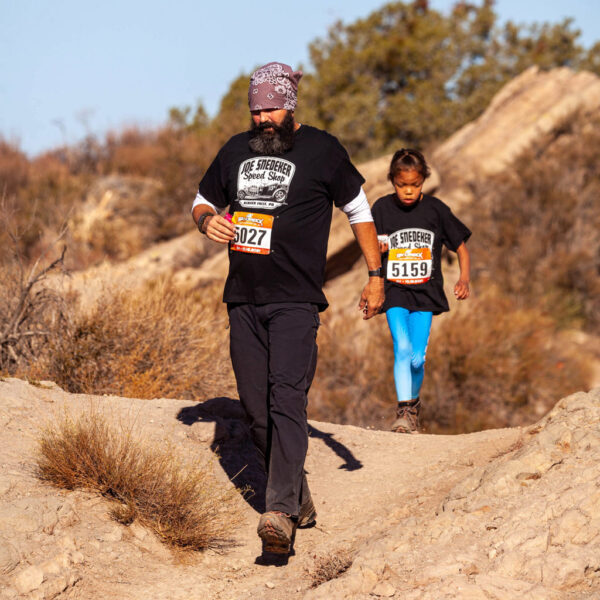 Joel Cooke
This race is a technical treat that satisfies the goals of the soul. Set your controls for SPACEROCK Trail Race and you'll experience of level of accomplishment that's rarely matched and all while scrambling through amazing terrain with super cool earthlings!!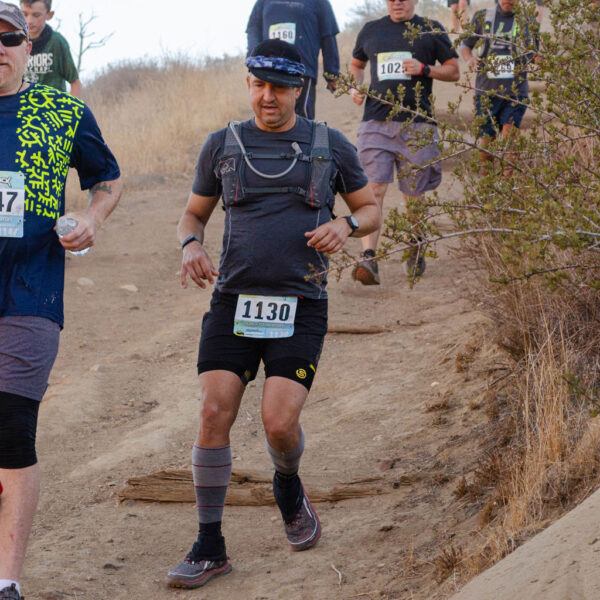 Greg Paggi
Great scenery, epic conditions and challenging terrain.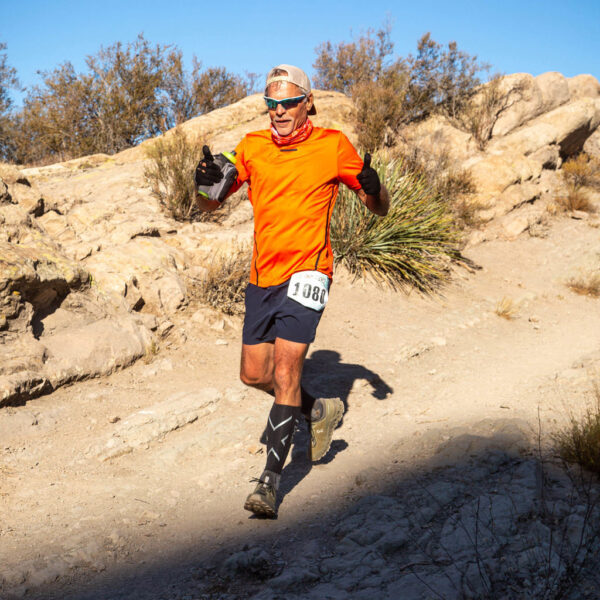 Brian Sturz
Extremely well organized and everyone was extremely nice both racers and staff/ volunteers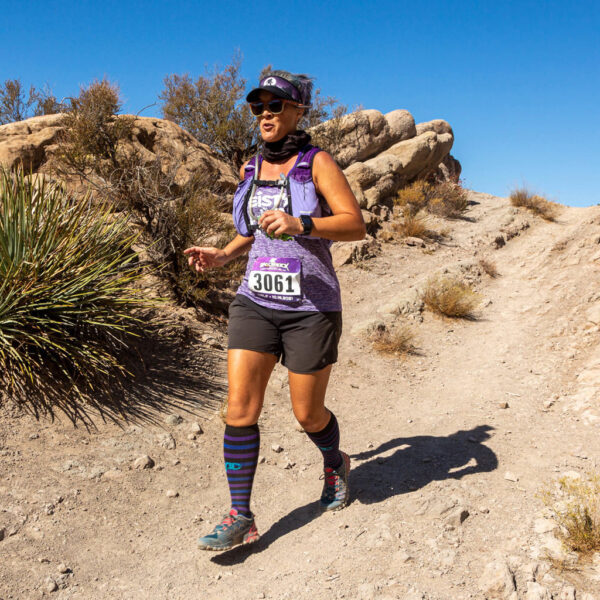 Sara Heckel
Ridiculously challenging but immensely satisfying with great swag and great volunteers
Sara Deacon
If you really want to torture yourself, this is the way to do it! Beautiful views, really tough but fun course, great food at the aid stations and at the finish as well!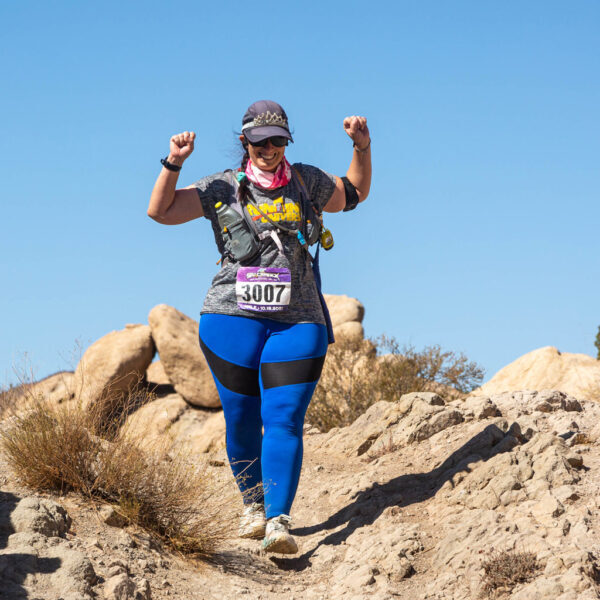 Anna Schechter
Great race, great people, great location. I liked the people. They made sure that someone was out at the stations, even after the cut-off time. It was nice that the slow people were not forgotten.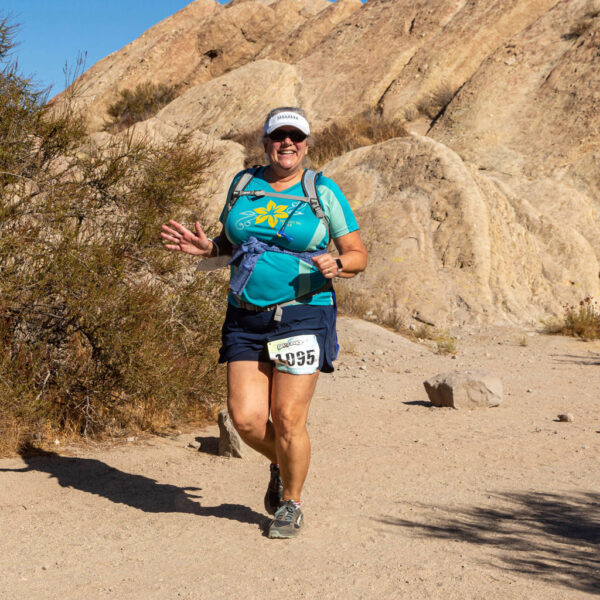 Cathy Modaro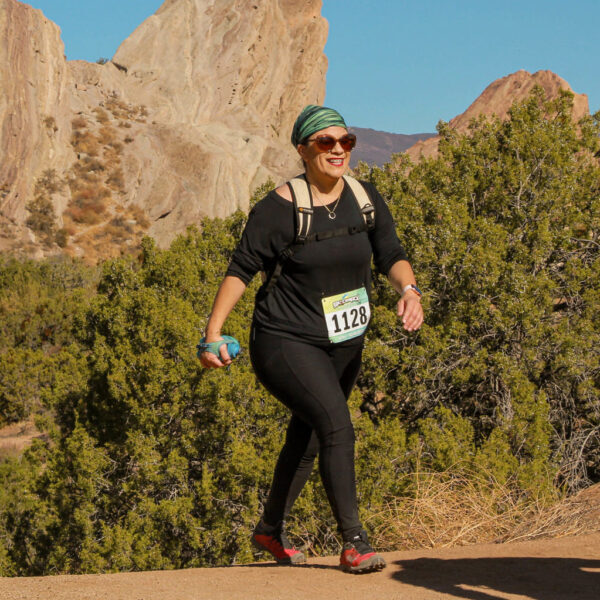 Mariana Rosales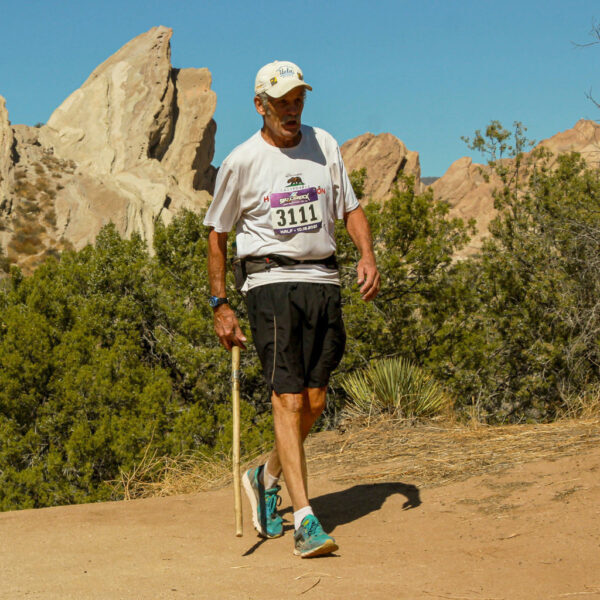 Don Vulich
This course is beyond challenging, but not too, too much.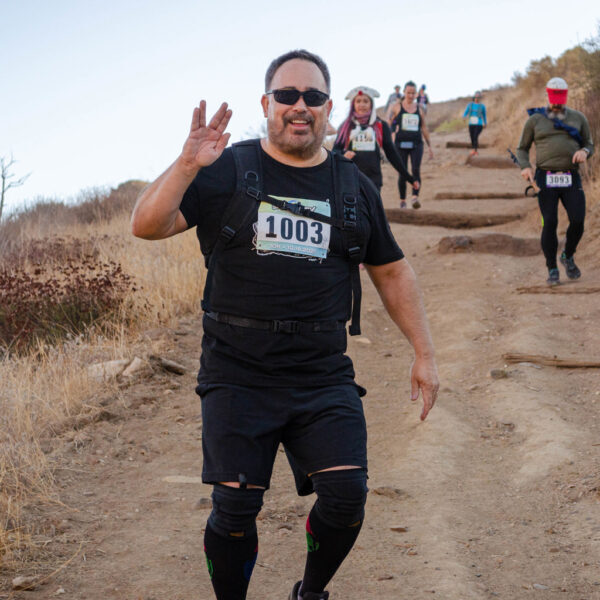 Joseph Perea
Great course and well organized.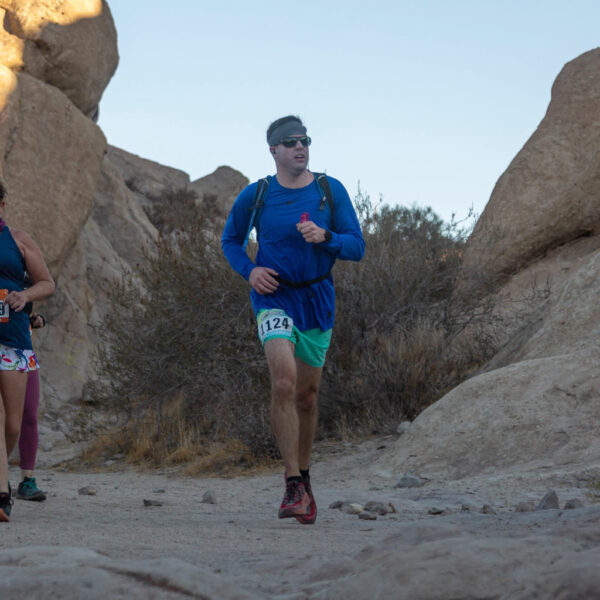 Phil Zwart
The trail was well marked, the different scenery was awesome, and most of all, the staff and volunteers were super helpful and kind . Do your homework and run/jog the route the week prior so you get a feel of where and when to manage energy levels so you don't gas out on the steep climbs.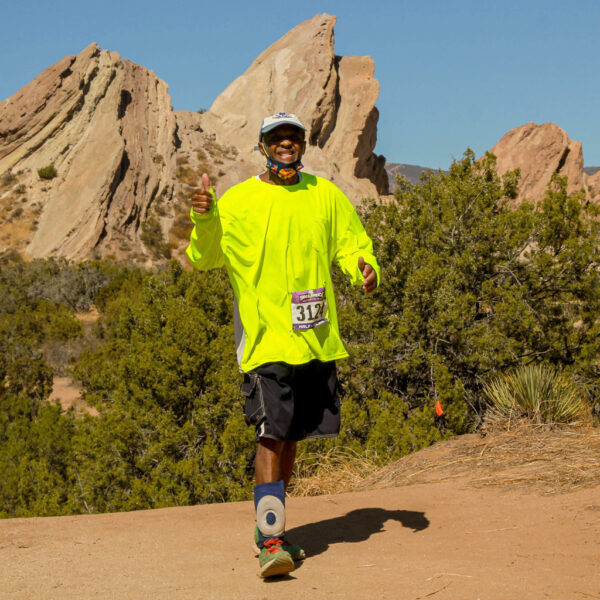 Cary Thompson
What a great race, and great event staff!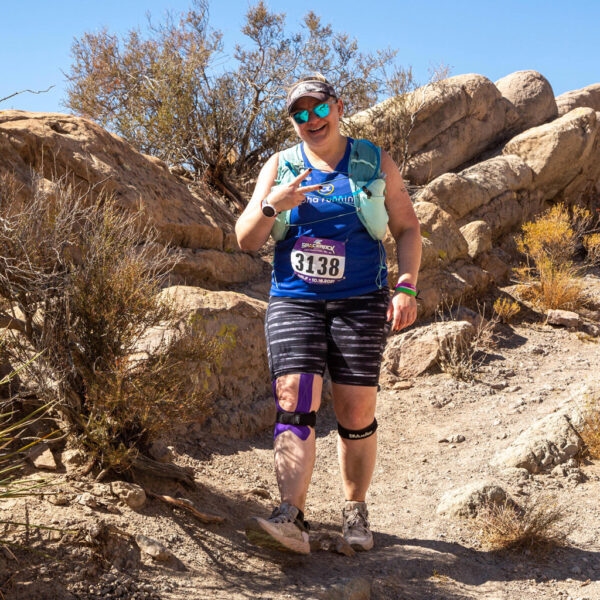 Traci Kempa
The Space Crew makes this extremely difficult course worthwhile. Thank you for taking great care of us along the way!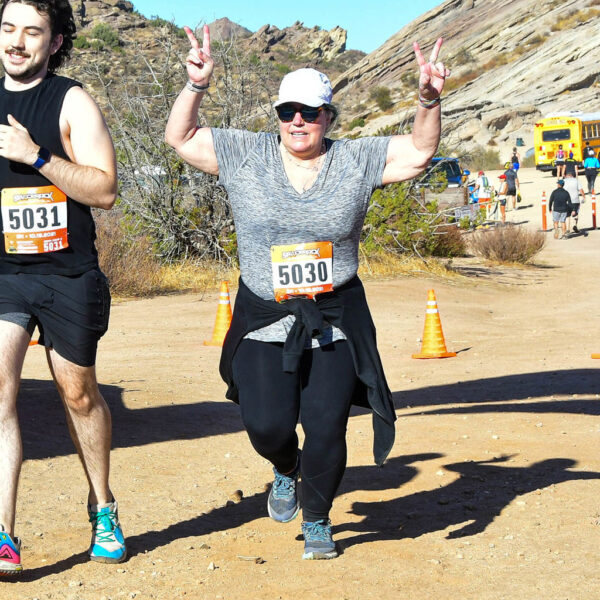 Kathy Johnson
This is a well organized race in a one of a kind location. A must do for any trail lover.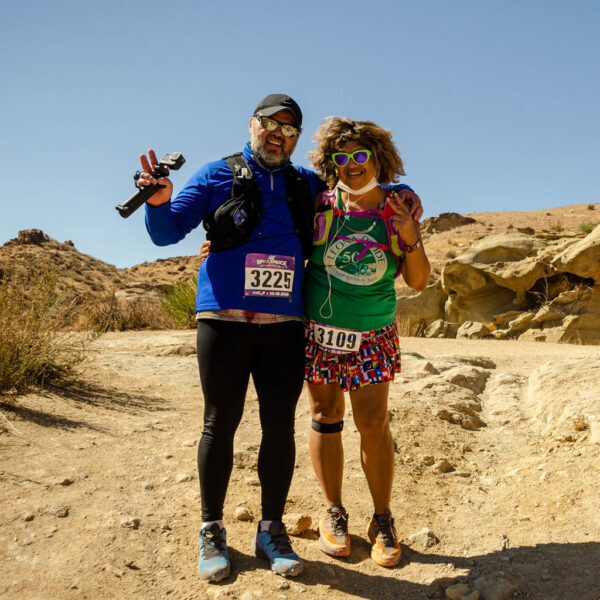 Luisa Rivas
I've done this race since the inaugural and I look forward to do it every year! The course has the most majestic views!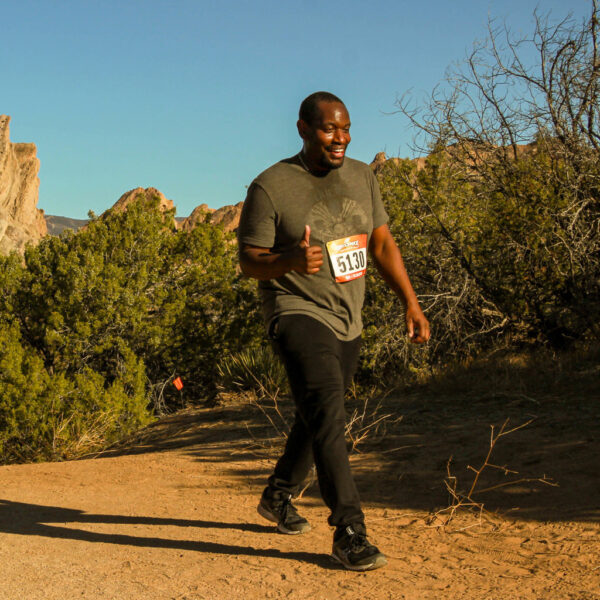 Rael Richardson
One of the most fun and challenging trail races I've ever run on. I'll definitely make this a yearly tradition.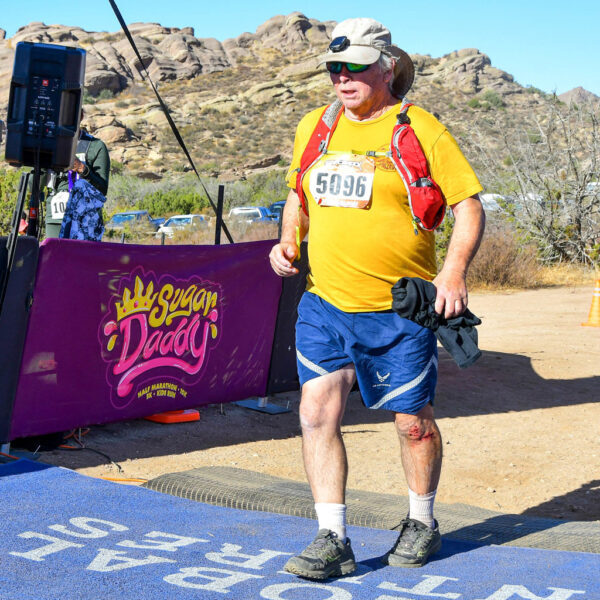 Stephen Burns
The people were fun, runners and volunteers. I fell over a rock and many runners came over to help. So kind.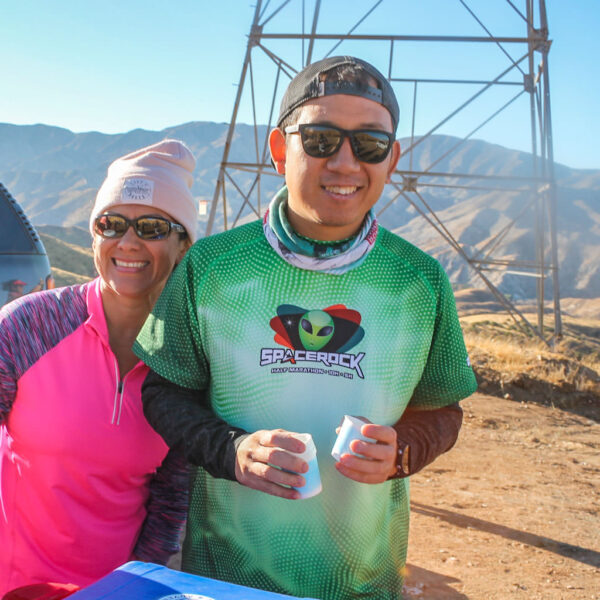 Shinya Nakata
As one of Space Crew Members, I witnessed all the volunteers working hard and diligently so that runners have a great experience racing at this one-of-a-kind spectacular course setting. I hadn't run or volunteered this race before, but I felt welcomed by RD's and other returning volunteers. I was honored to be a small part of this race and Space Crew. I will definitely volunteer or race next year!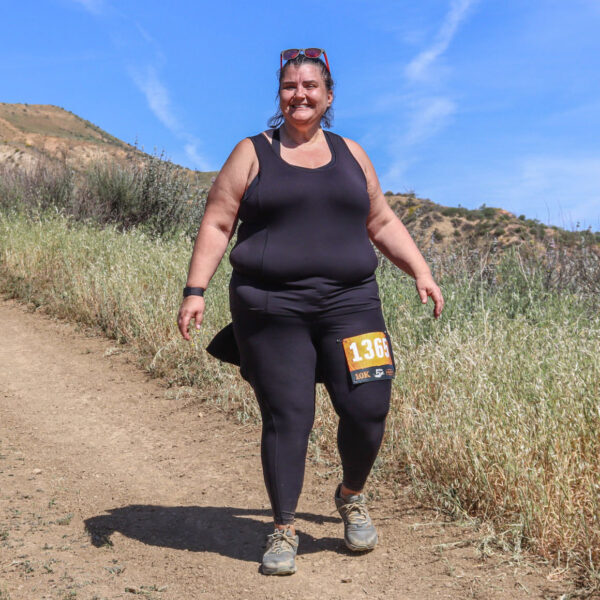 Jessica Calhoun
I signed up to be a volunteer at SPACEROCK because it's really rewarding to give back to the running community, as well as help support the organization that puts on these amazing events.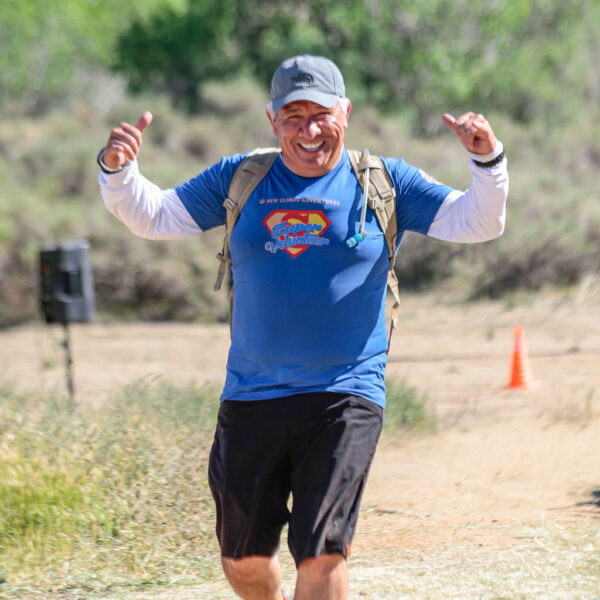 Nabor Cabanillas
As a volunteer, it waa a pleasure to work this event, the organizers do great job informing and preparing volunteers before and during the event we are well taken care of. The runners are great and are always very appreciative of of the crews/volunteers. Will work this event hands down. Can't beat the location and weather.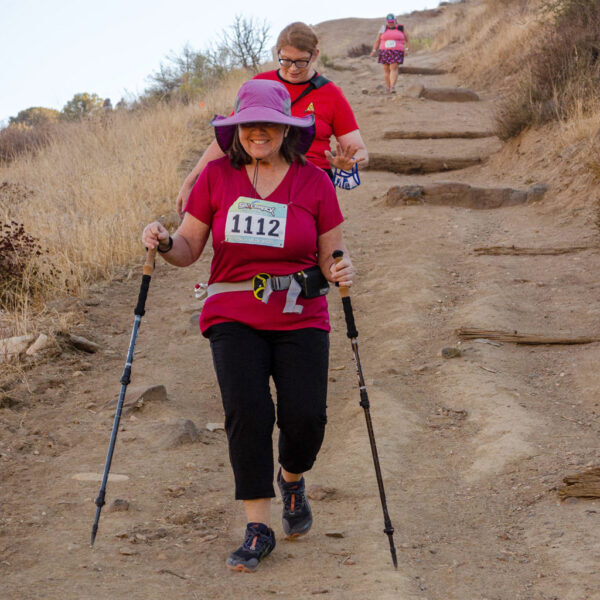 Cindy Zwart
Awesome race course had such a great time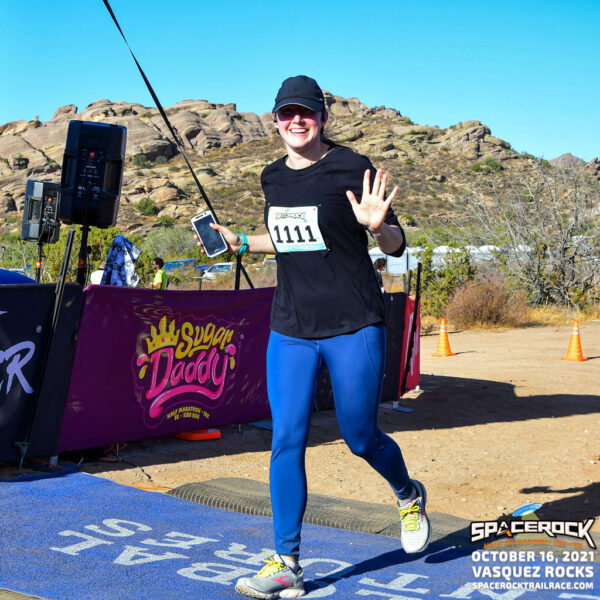 Megan Zwart
First time running this race and it was challenging but fun! Really loved the location too with the amazing views!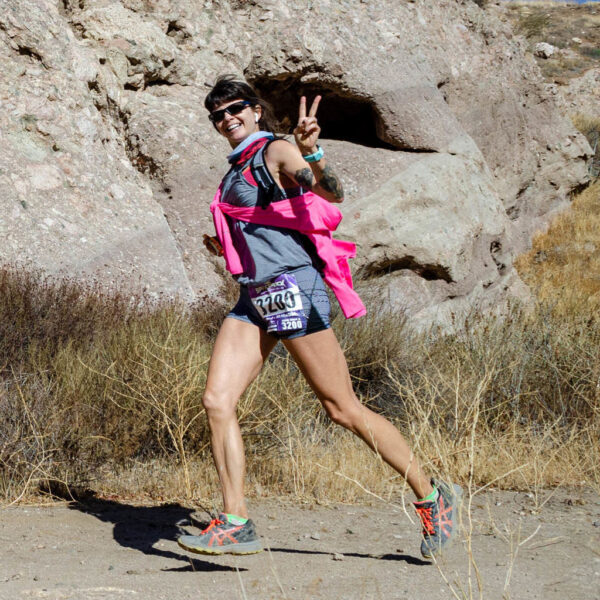 Ann McCann
This is an organized, fun, challenging race in a unique setting!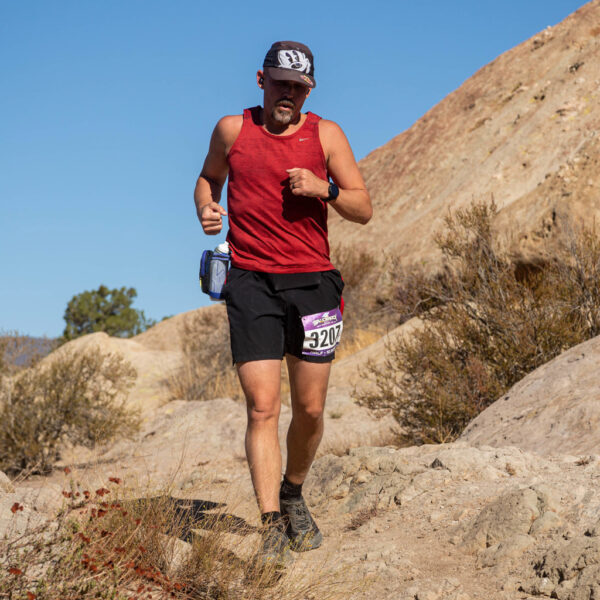 Andrew Fowler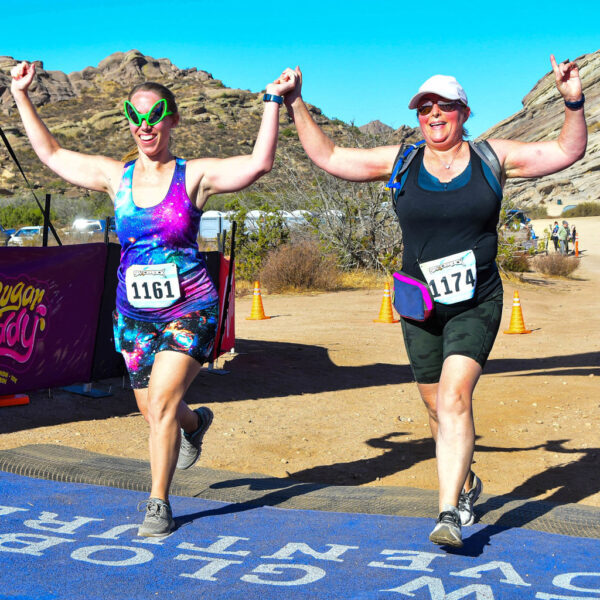 Sandrine Derycz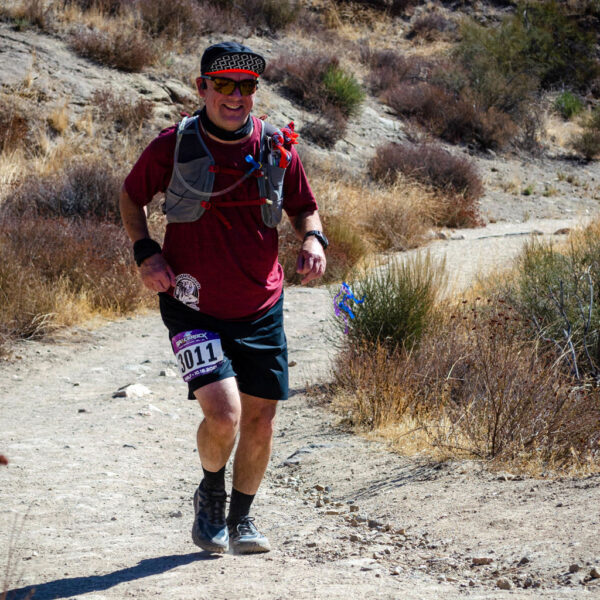 Dave Oppliger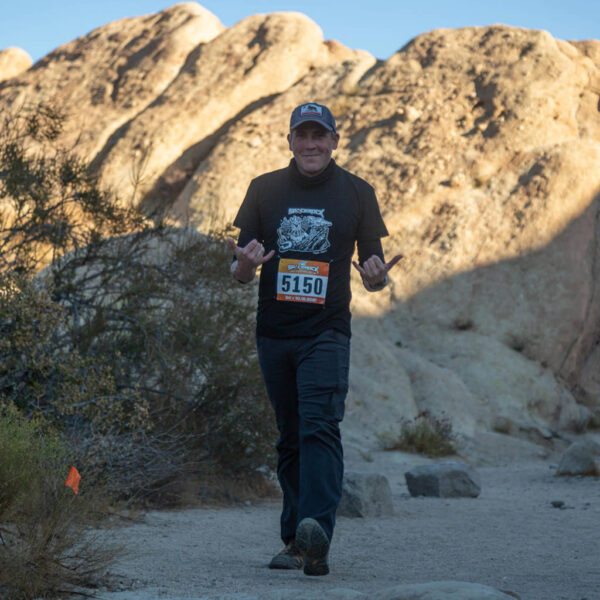 Brian Heurkins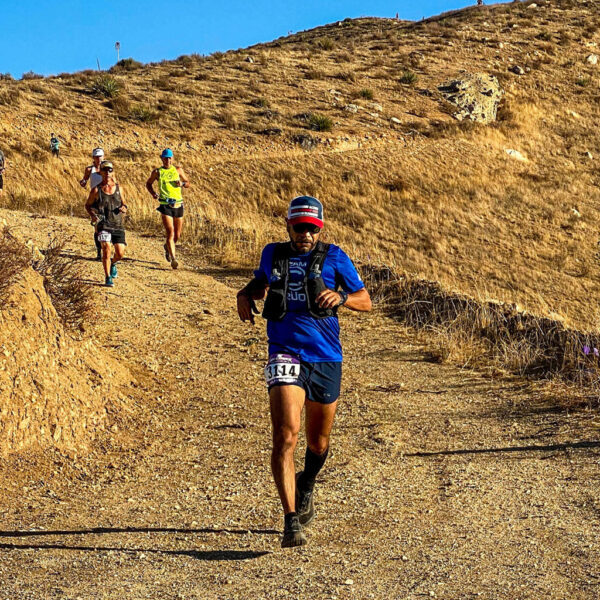 Rafael Duarte
Great views! Challenging course specially the last 2 miles! Makes you work for your bling...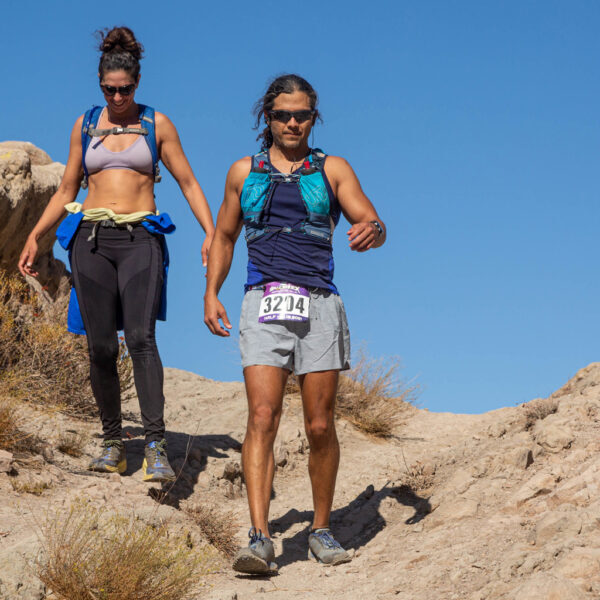 George Anthony Ruiz
Gonna participate again next year…I will bring more friends to run.
Mark Dannerth
Well run. Shirt was tremendous. The theme still has Star Trek, but is more space/sci fi in general more like running on another world.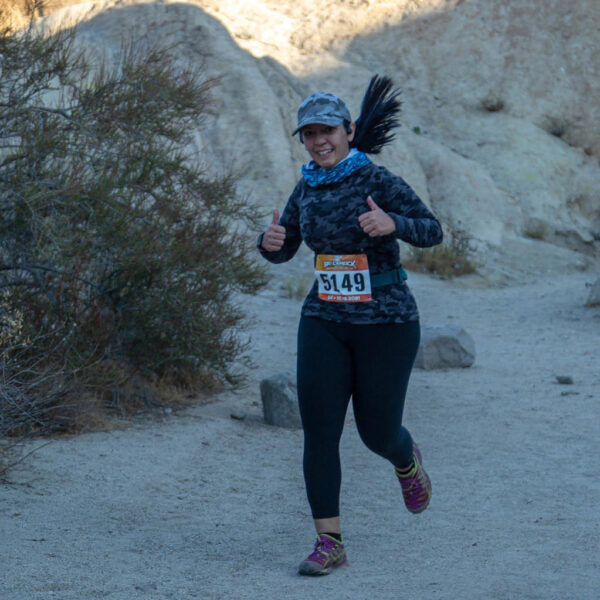 Alenoosh Heurkins
It's a very nice race and fun, a little overpriced but worth it.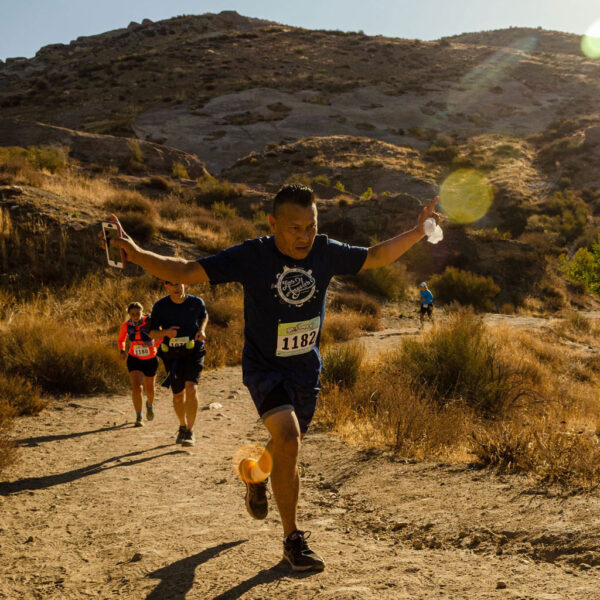 Felix Martinez
My first time running in Vasquez Rocks, my favorite place was entering the canyons.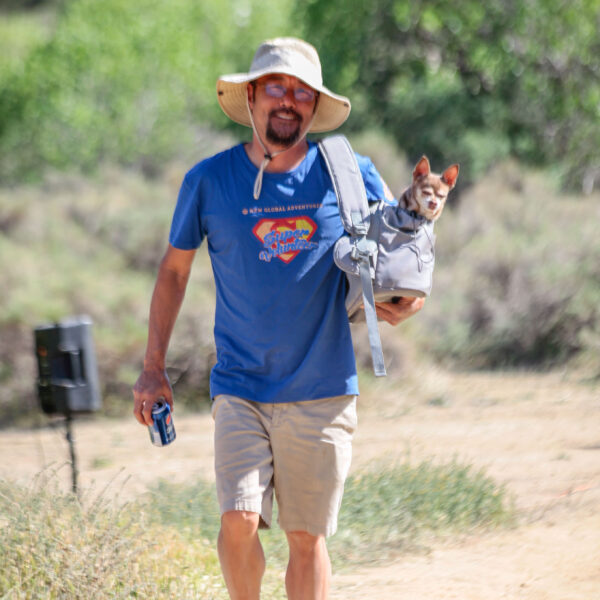 Phillip Park
Awesome NGA events as usual.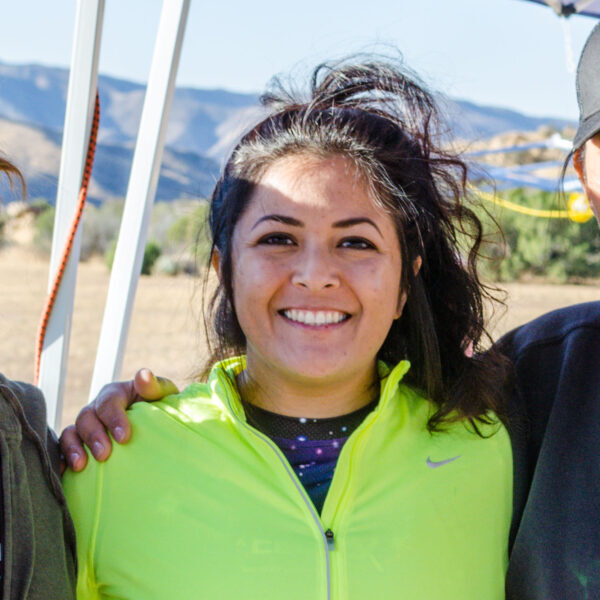 Melissa Tampus
Great people. Great race. Amazing scenery. Can't go wrong running this race!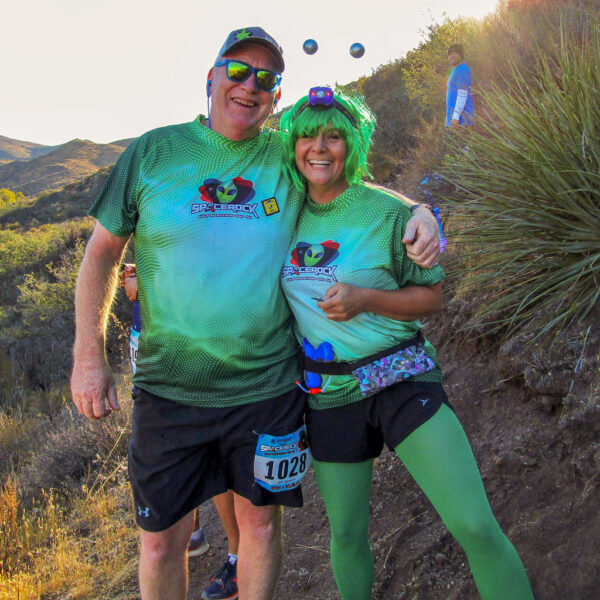 Caren Cummins
An amazing experience in such a beautiful location!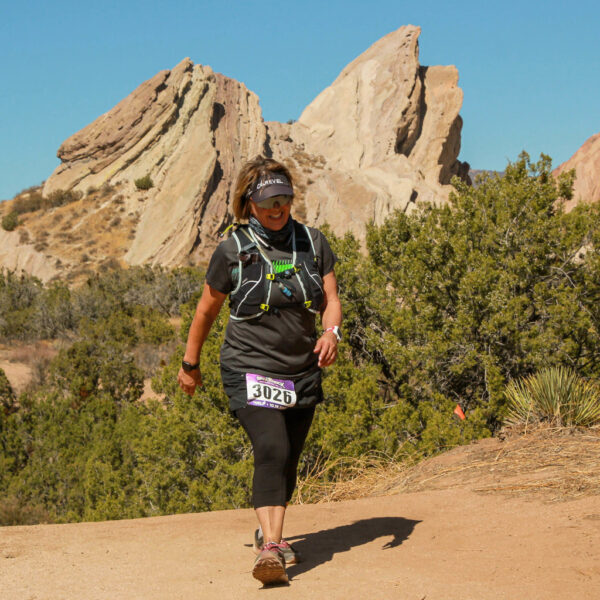 Caroline Castillo Shahin
It is the toughest half marathon trail event. Aid stations at right point. Since I am back of pack, was good to have food. Terry, race director puts on a good event.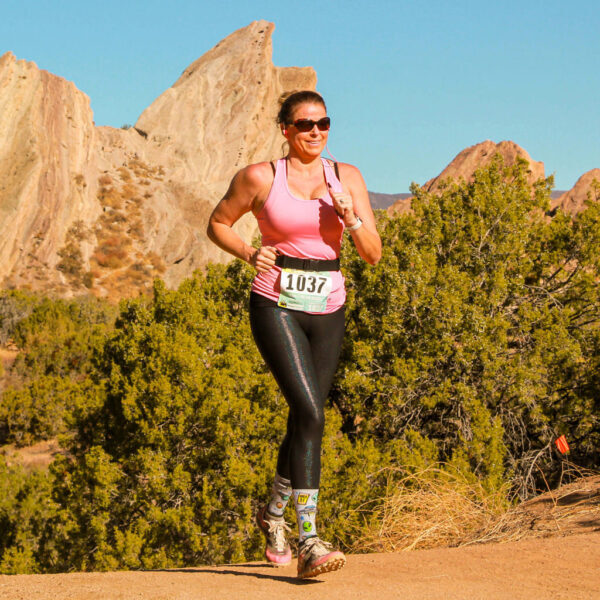 Jennifer Kornbau
Great race! Very organized!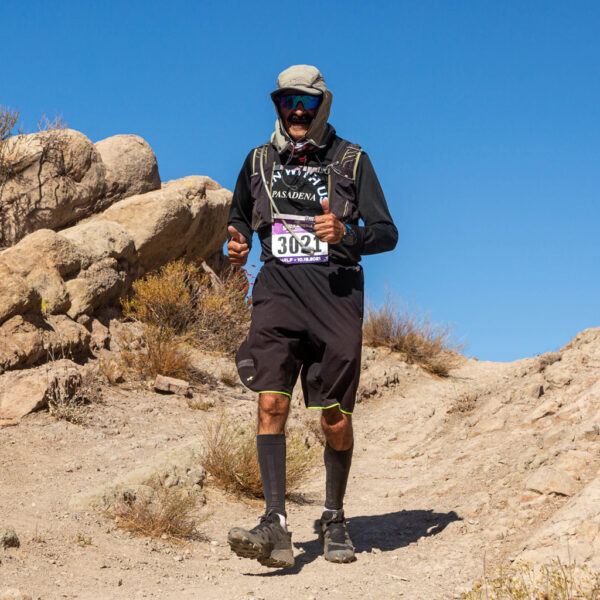 Sirous Shahin
The life is a journey and not the destination. Spacerock races will be our journey for upcoming years.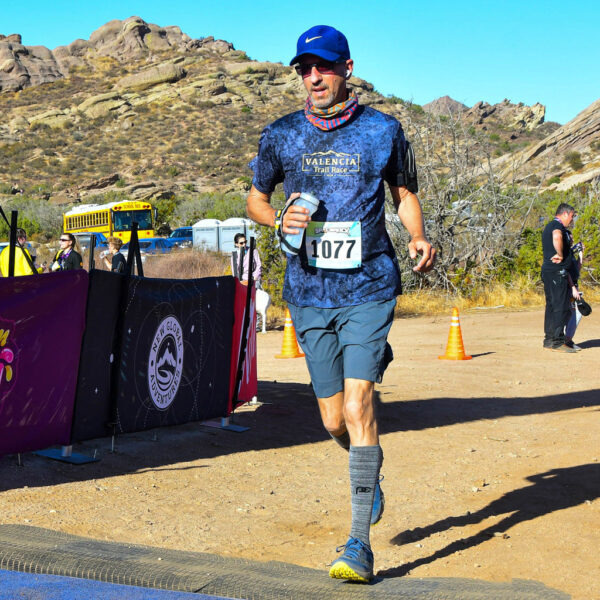 Andrew Meyer
It's the third time I ran it and it's still my favorite!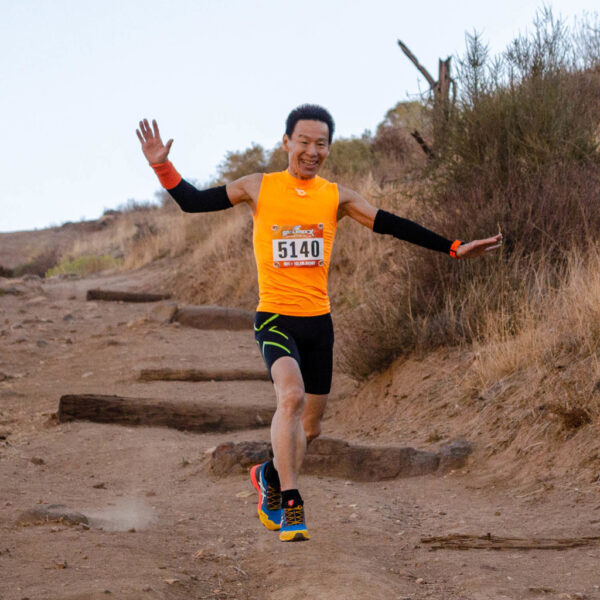 Masato Yokoyama
Great scenery with challenging climbing and roller coaster like downhill. Very exciting course.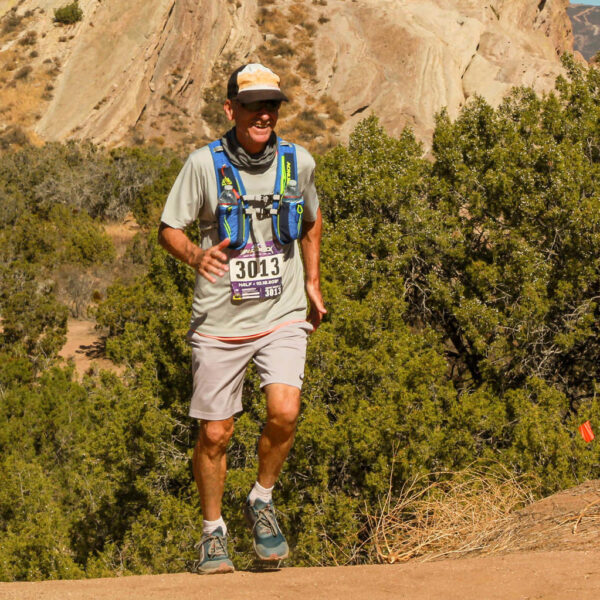 Francis Farmer
What's better than a spectacular world famous location? A terrific crew organizing the perfect race at that location!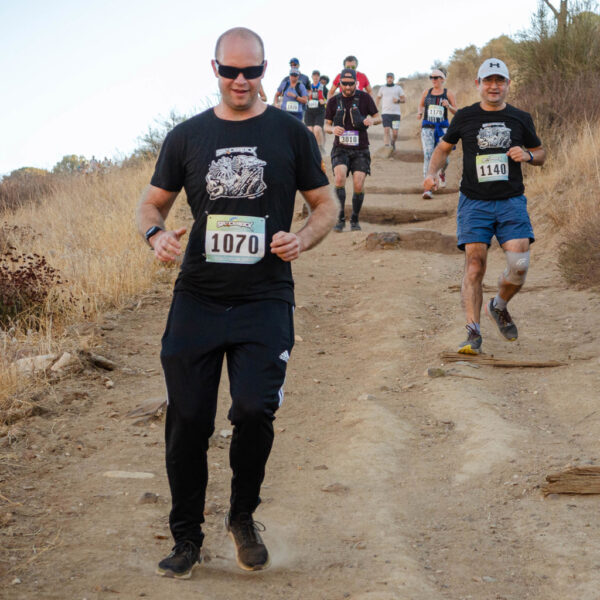 Timothy Abel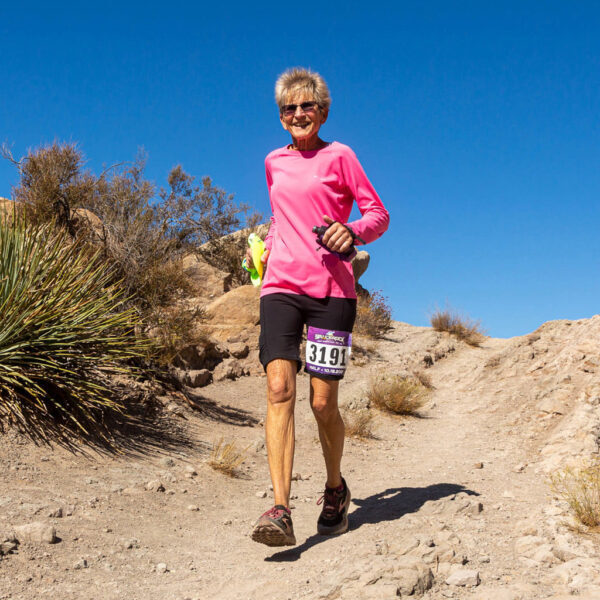 Kim McCandless
Eat a Cliff Bar because the advertisement is right! It's the energy bar you need to have an Extraterrestrial Experience on this challenging, rugged terrain. The SPACEROCK trail run is all about embracing the slopes, running easy, and having fun! I love my out-of-this-world New Big Bling!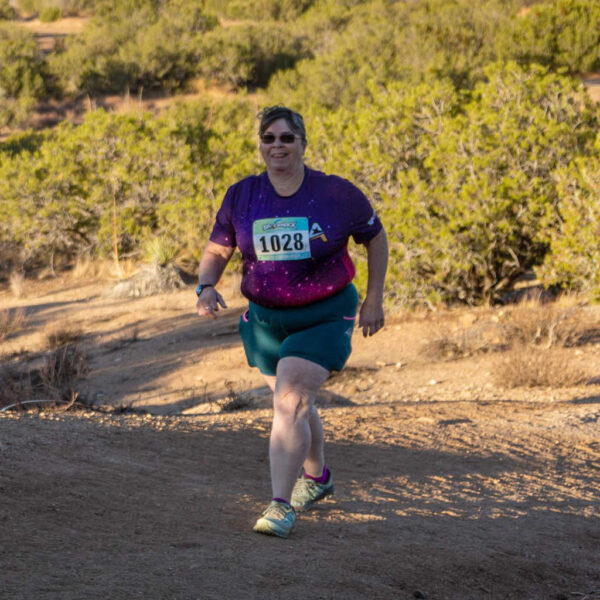 Kathy Renfeldt
This trail run is the best ever! I look forward to it every year!!!!!!!!! I will continue to participate until I physically can't.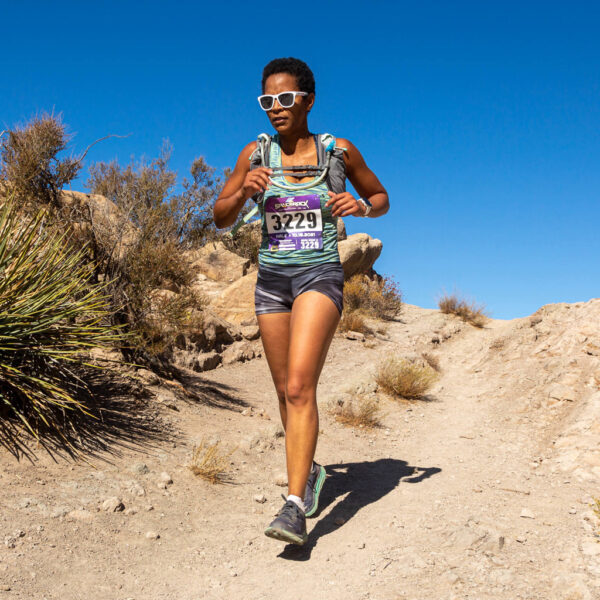 Andrea Johnson
Great race, hard race. Had a lot of fun and I was challenged to the max!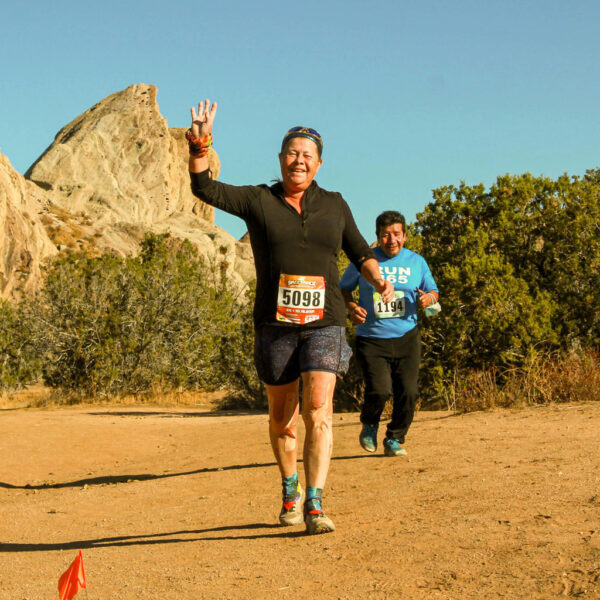 Sandra Adams
I LOVE this event, and running through VR is like a step back in MOVIE time. The trail is so interesting, and the volunteers are the best.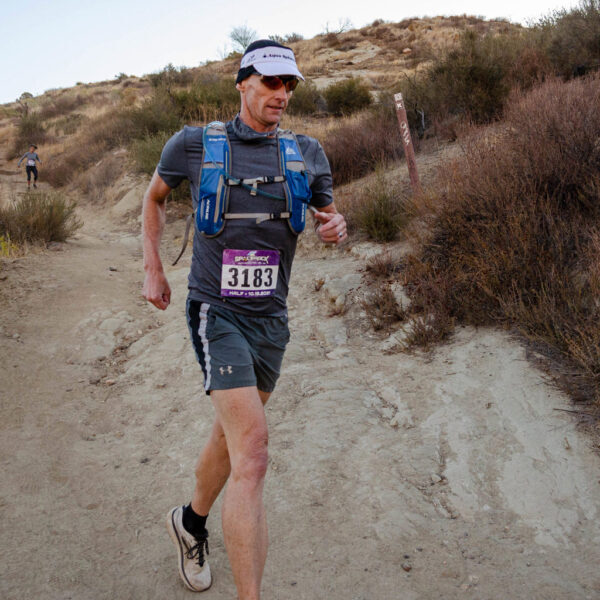 Jonathan Edge
Surreal experience. Only bad thing is that you are constantly looking down to make sure you don't trip, so you miss a lot of the scenery.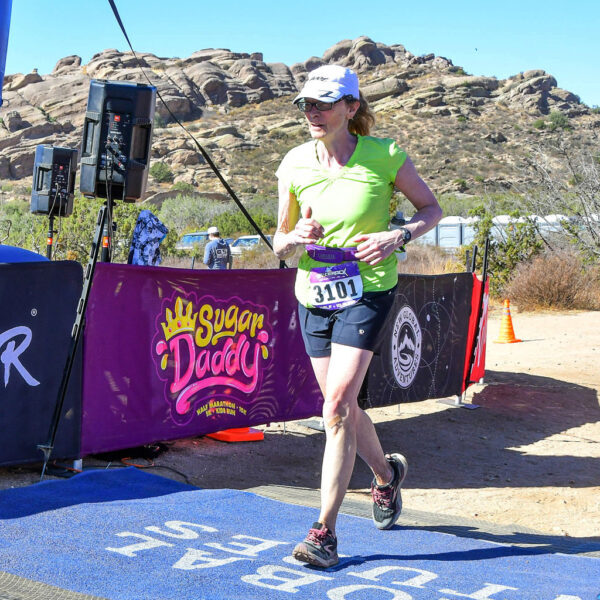 Anne Russell
This is a beautiful, diverse (fire road, single track, tunnel, etc.) course that is extremely challenging because of the long, steep ascents. If you're prepared, you will love the experience.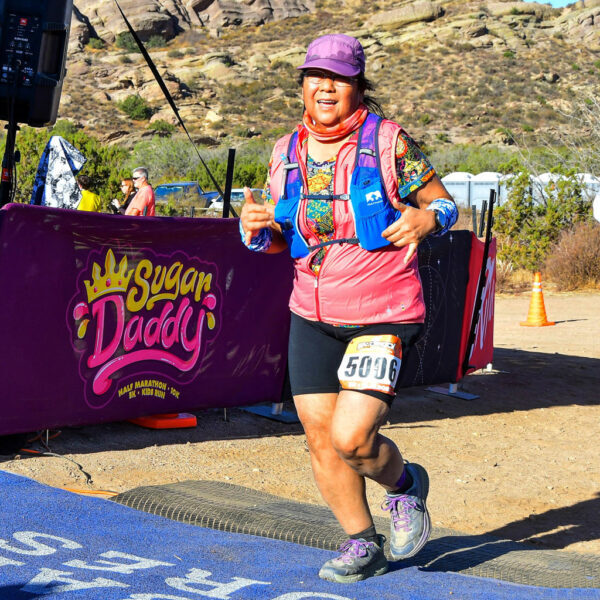 Joanne Kakuda
The energy at this race is always good. And the landscape is always amazing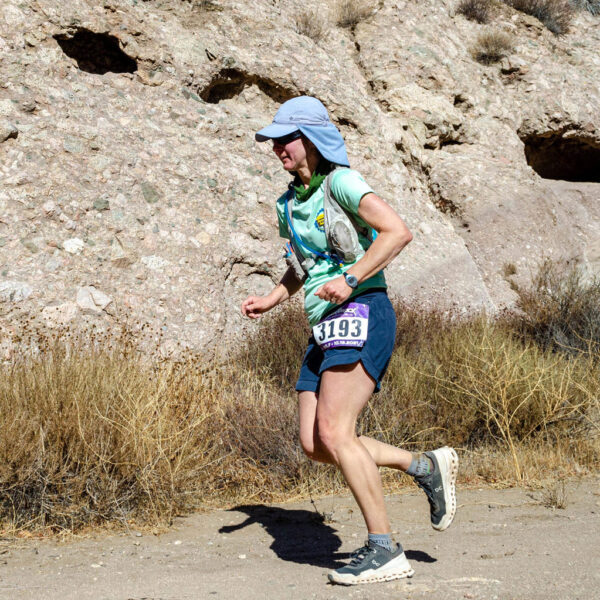 Heather D'Anna Nichols
I've eyed this race for several years and was able to finally pull the trigger and race it this year. The course theme was cool and the variety of terrain was challenging. There was even the bonus of gusty Santa Ana winds. I'd recommend this race to anyone. It was a great sunny and windy day with everyone in good spirits.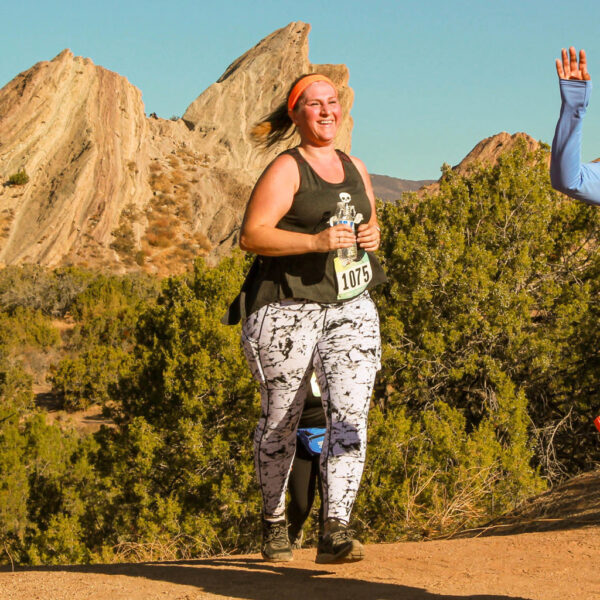 Katie Weber
Great race if you're looking for a beautiful and challenging course! Super efficient and awesome volunteers mean this is a race you should absolutely check out!!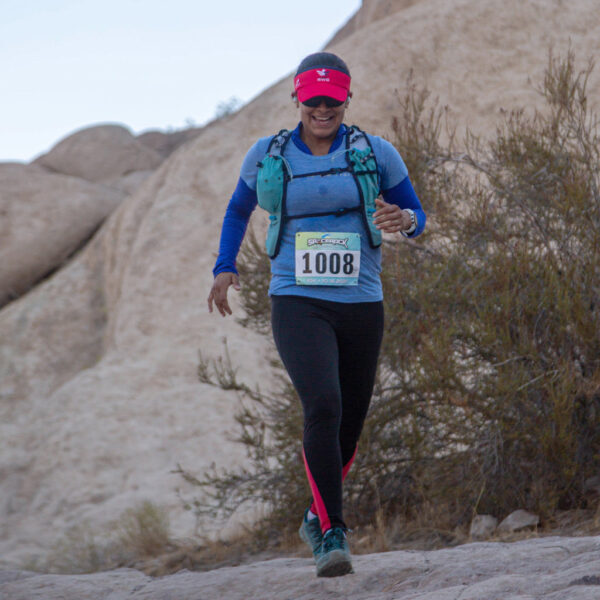 Sonia Bustamante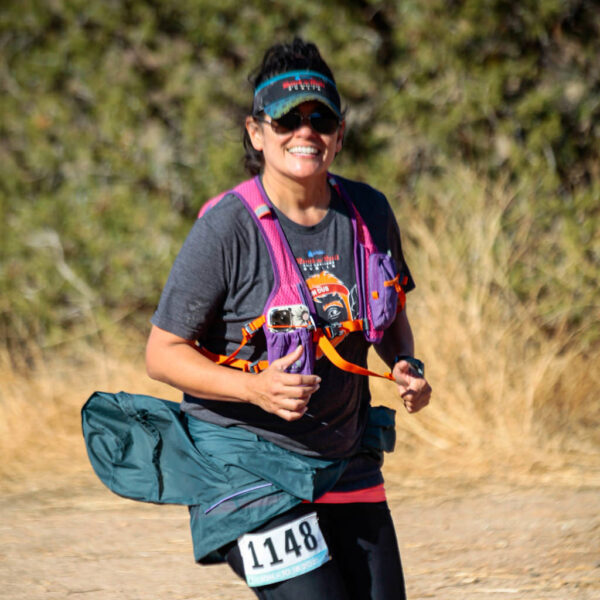 Karla DiDomizio
Never disappointed with this race. Beautiful course and well organized! See ya next year. It was great being back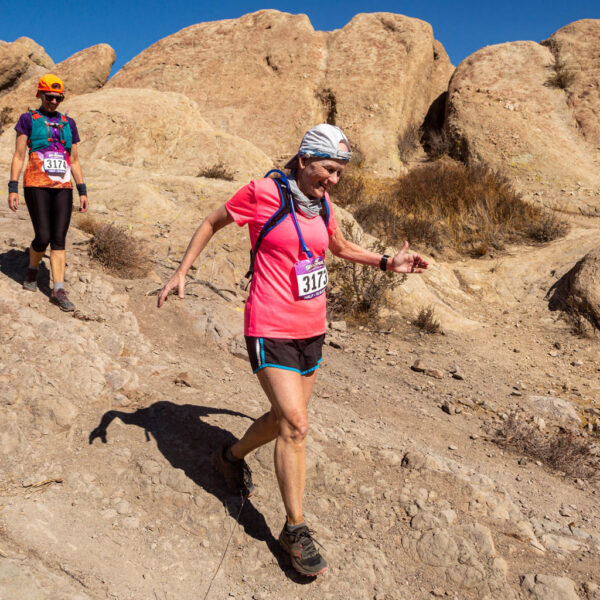 Wendy Winters
The course is beautiful and challenging. You cannot finish this race without feeling totally tough and completely overwhelmed by the scenery.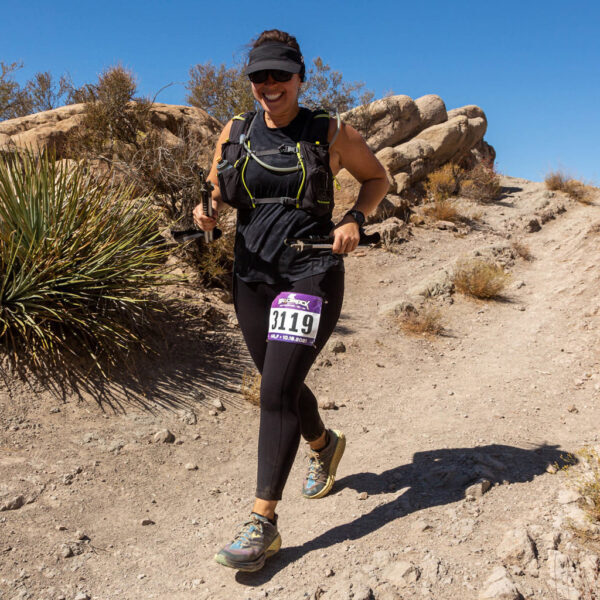 Sandra Florian
Thank you! It was a great experience!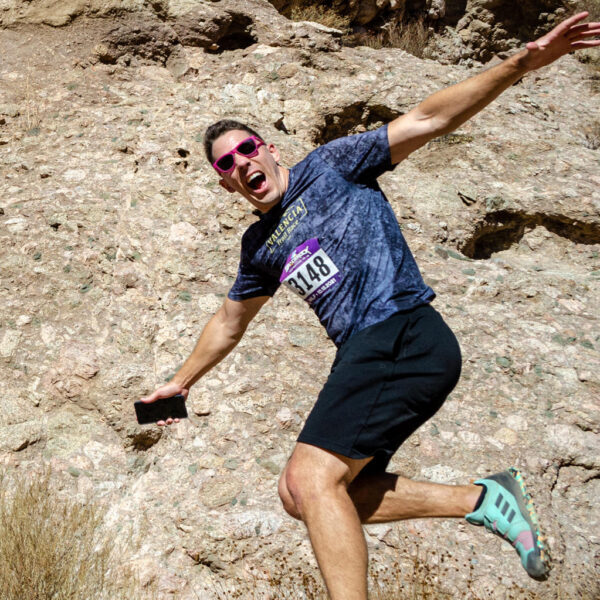 Alex Moore
This course kicked my ass! The hills were brutal... The downhills were long and technical which made the hills worth it.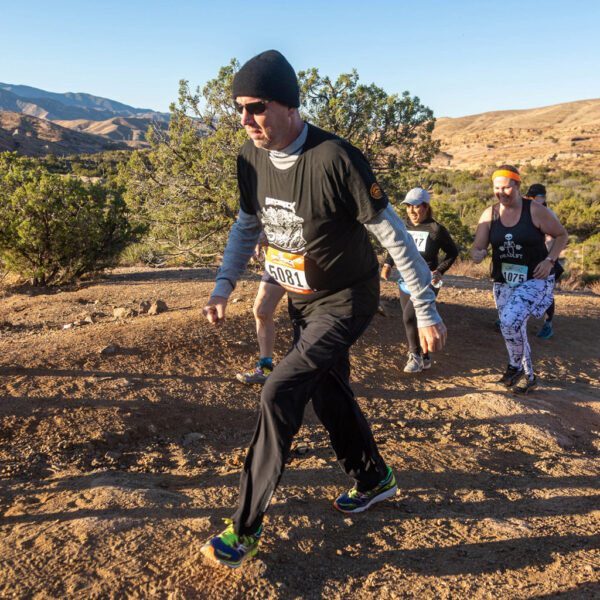 Mike Dobbin
Best way to start a weekend. Beautiful, scenery, very positive and supportive participants and volunteers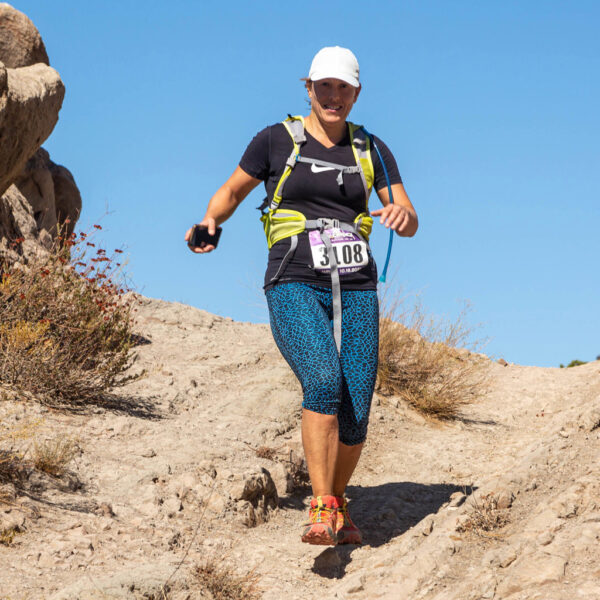 Alison Corteen
This is a challenging course with stunning scenery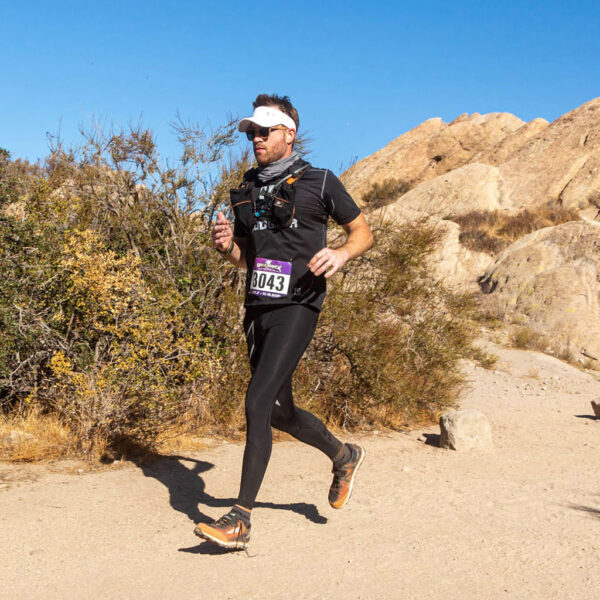 Stephen Hall
Challenging trail race with outstanding support to help you reach your goals.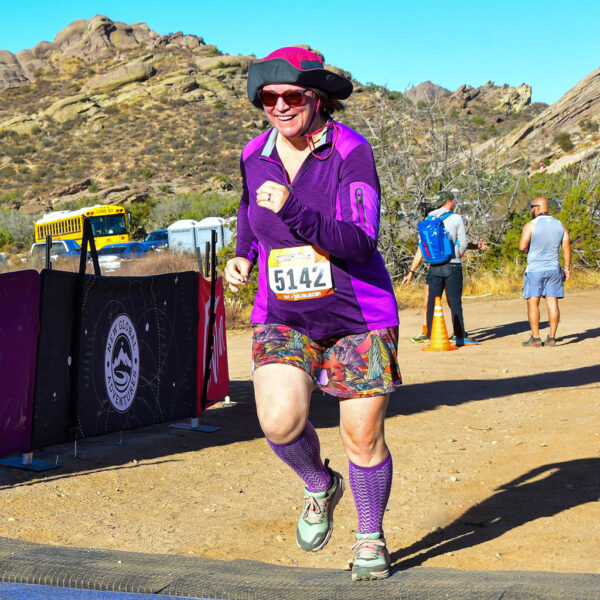 Kate Townsend
This race is a family tradition for me and my two sons! The staff and other runners are friendly and supportive. The course is challenging but doable. The weather and rugged scenery is always awesome. Plus, it has the coolest T-shirts and medals.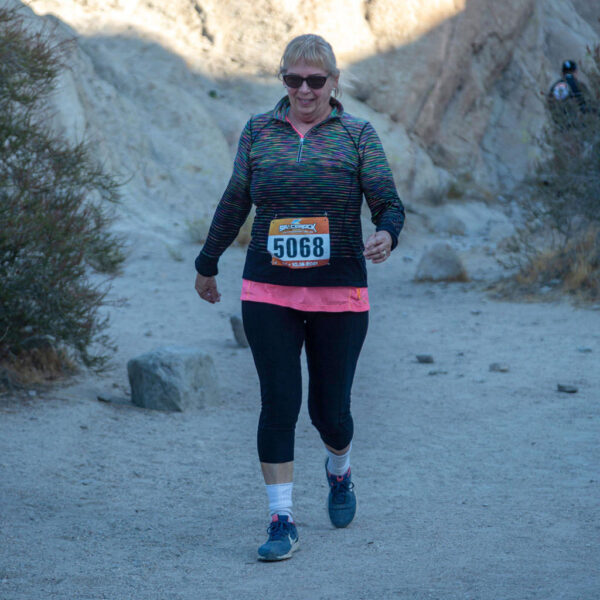 Valerie Meyer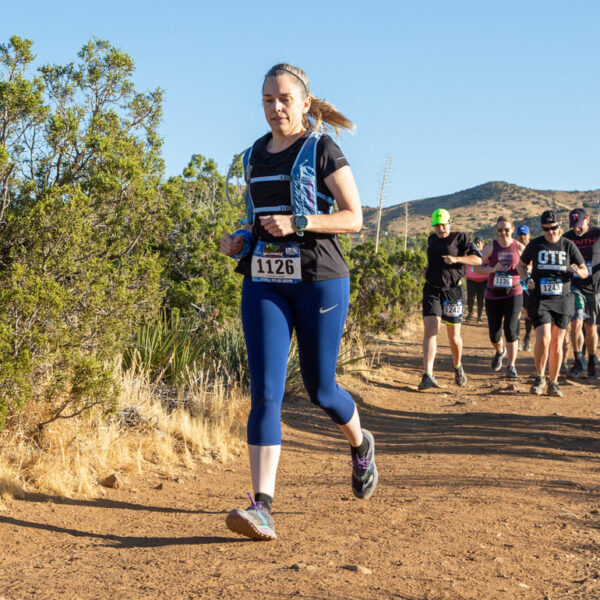 Cynthia Ludwig
The views were amazing and the swag is cool but the thing that really makes a race excellent is the volunteers. I felt well supported and cheered on. Everyone was kind, helpful and positive. I can't wait to do it again next year!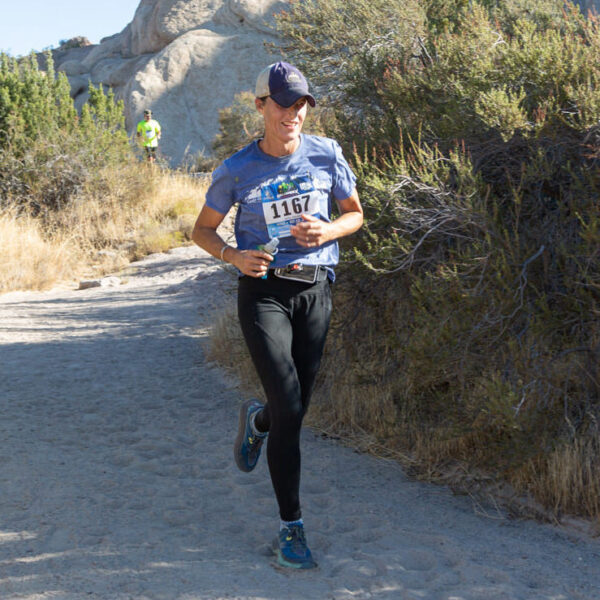 Kate Vincent
Wow - I LOVED this race... Such a beautiful course, really fun people and very well organized!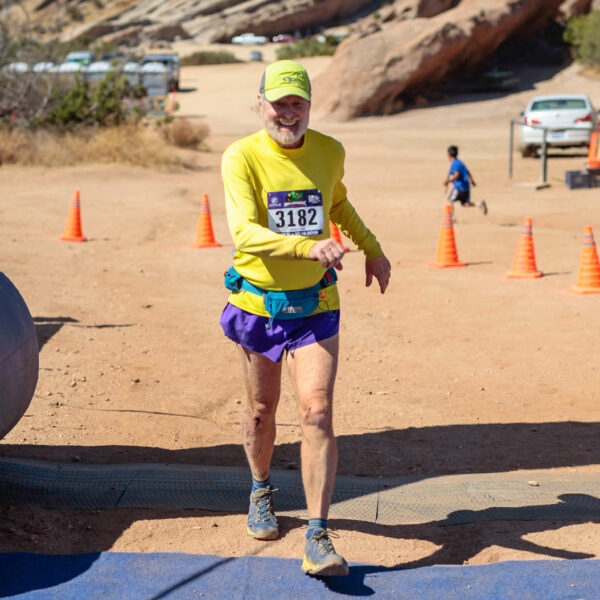 Laurie Loon
If not always fun, it's always a gratifying experience.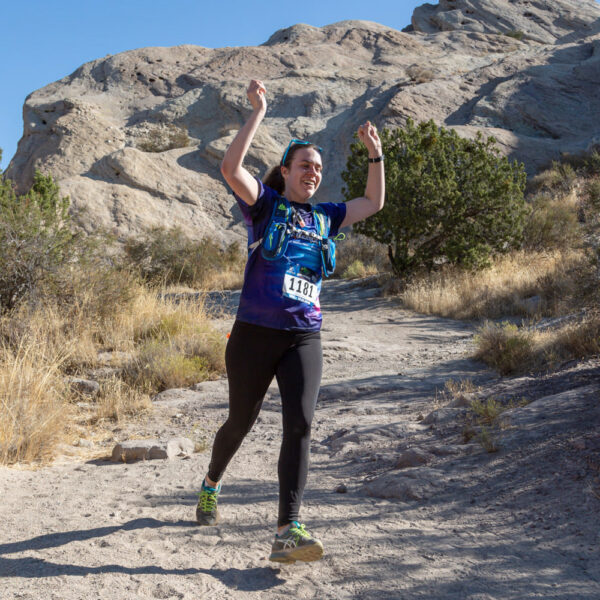 Jacqueline Sly
Excellent fun race in a beautiful location - I've hiked in this area a lot but there was something so special about doing an organized run here, the organizers did not detract from the natural beauty in the way they organized and excuted the race.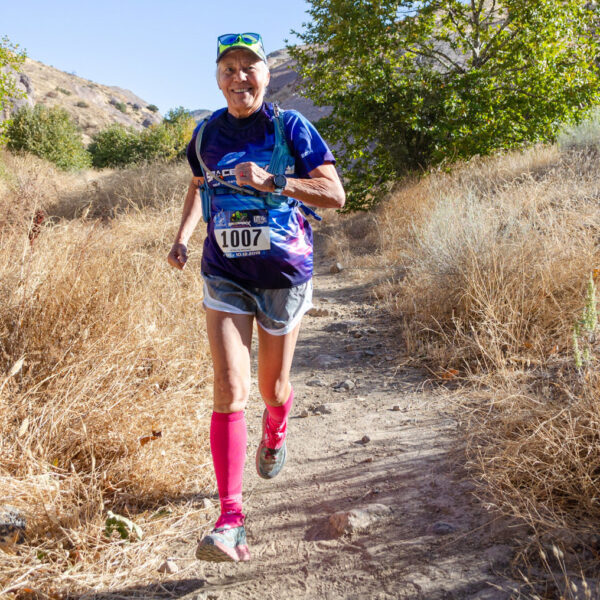 Evelyn Brown
An out of this world experience. This has to be one of the prettiest local trail races I have ever done (and SoCal has some good ones!).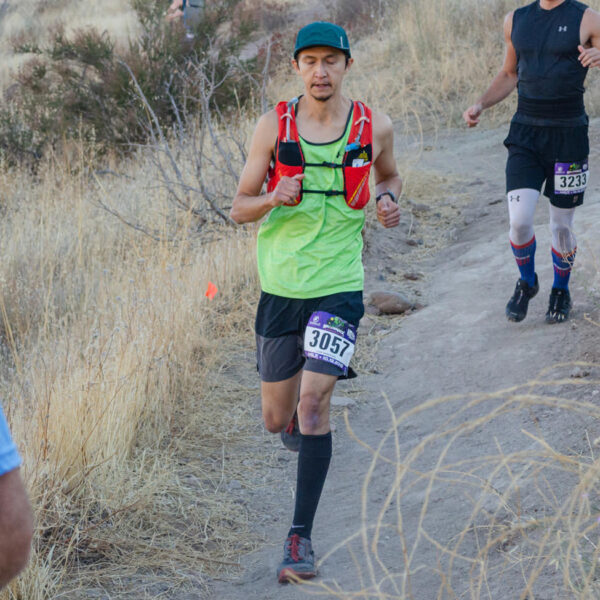 Luis Sandoval
This race kicked my butt! It was great and I hope to come back stronger next year!!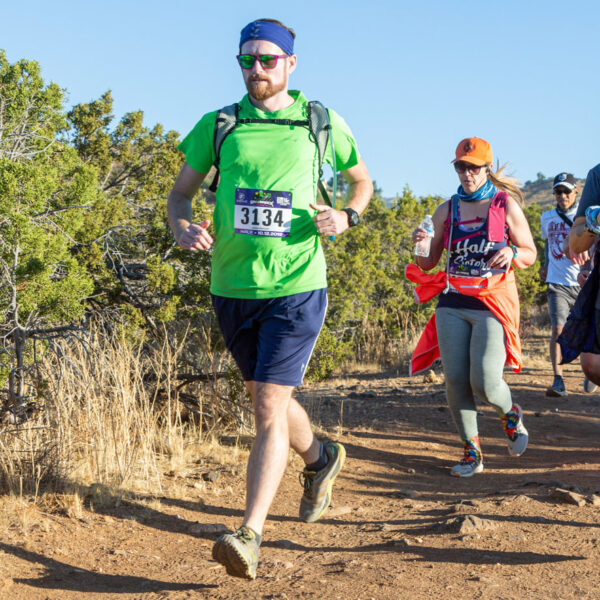 John Swiker
Spacerock is an incredible race. The half marathon course is tough, beautiful, challenging and overall, incredibly fun.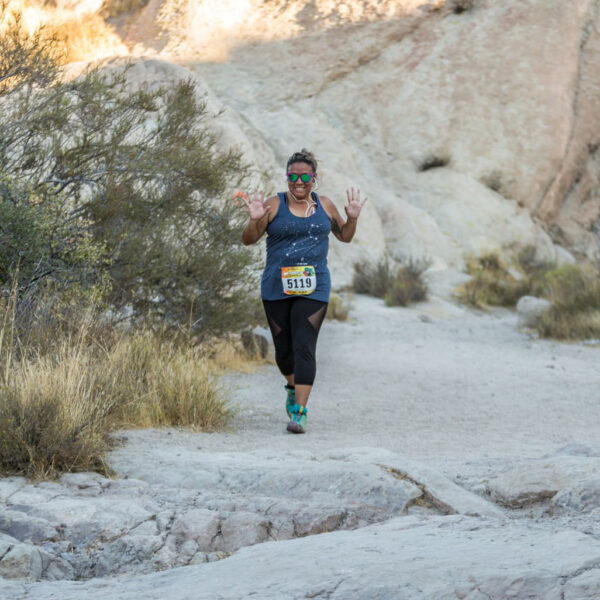 Melissa Cierra
I almost didn't run this year because of nagging injuries. I'm so glad I decided to at least do the 5k. This was one of the first trail races I'd ever done (last year) and I will continue to keep coming back. It is so well organized, the aid stations are well stocked and manned by super nice volunteers and the medal/bag/swag is the best. Thank you for the Legacy patch for returning runners, it was a really cool bonus. The post-race food provided to the runners is really varied and delicious (pound cake!!!). Thank you for another great race!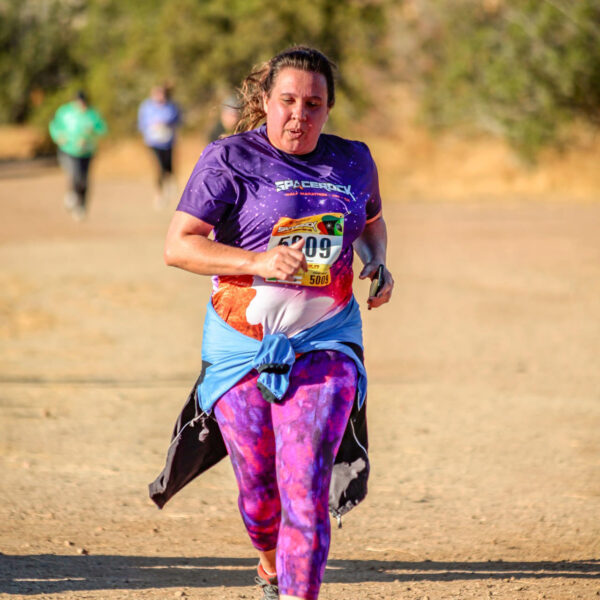 Holly Layman
Such a fun event in a stunning location! I'm already looking forward to next year's race!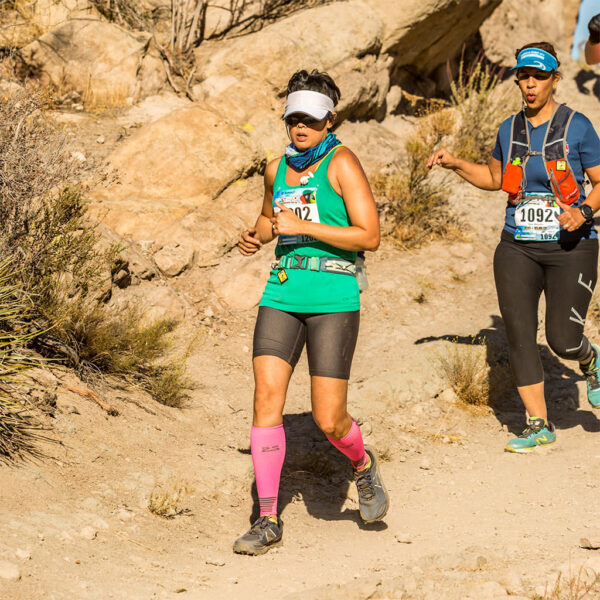 Xuan-My Tran
This was an enjoyable and challenging race for anyone at any age and any fitness level. There was great support from the volunteers throughout the course. It was hard not to stop a few times just to take in the breathtaking views.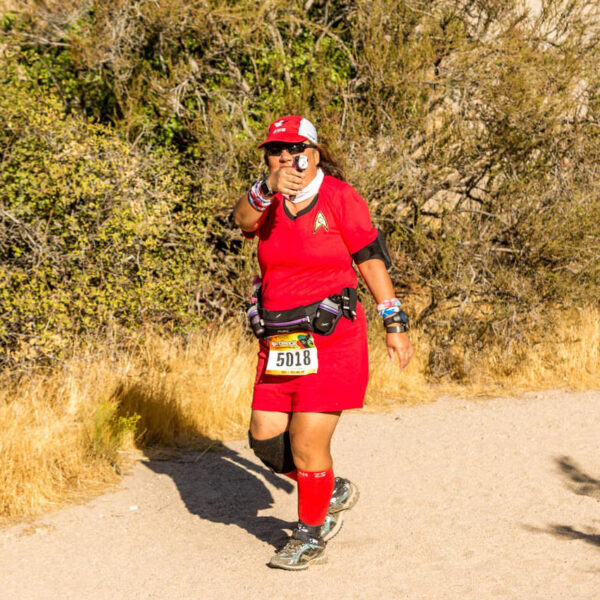 Janice Kuwahara
It was the hardest 5K I've ever done but the scenery was well worth it. Loved the support by the volunteers and the runners. Also loved the theme for this race. I survived the race while wearing a red dress.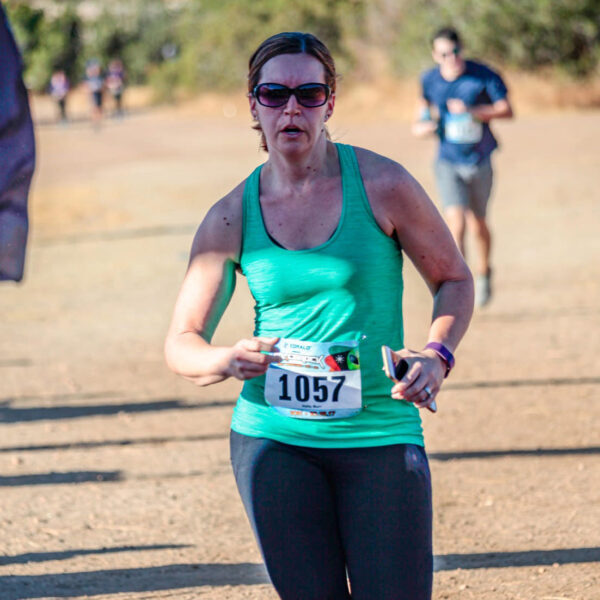 Kelly Burr
Spacerock is definitely a race worth running! The trails were more challenging than I thought they'd be but it helped me feel accomplished at the end. The medal is very cool and the race experience overall is a memorable one.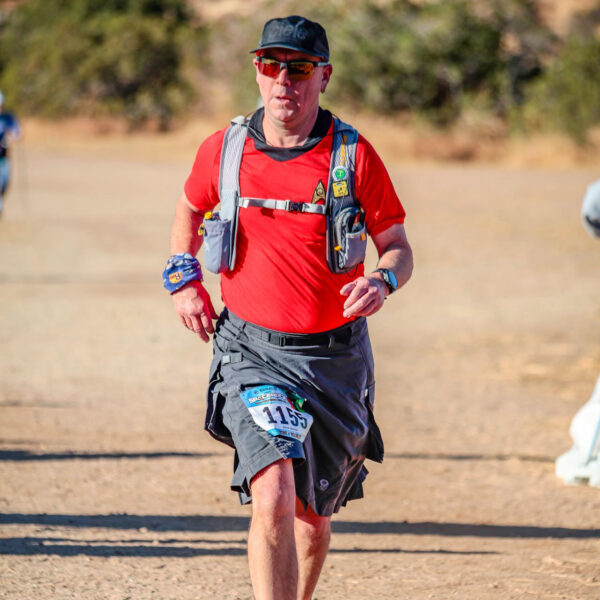 Dave Oppliger
SPACEROCK in NOT your run-of-the-mill race. Regardless of which distance your choose, it's going to challenge you in more ways than you know. One of the most spectacular trail races I've ever ran.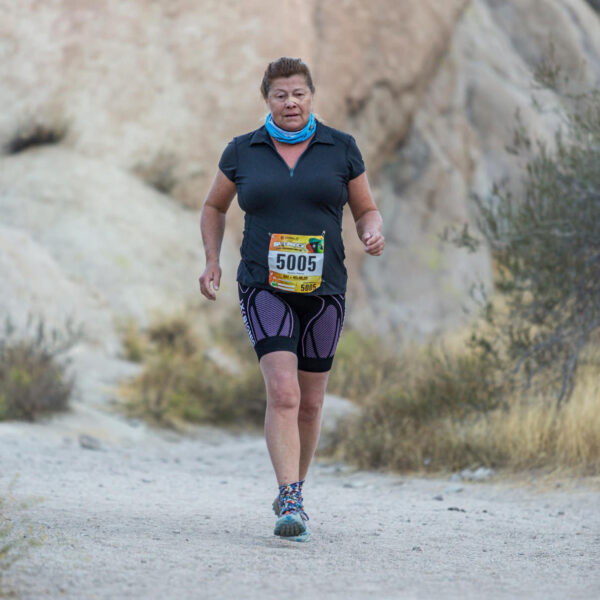 Sandy Adams
Tougher than last year for some reason but JUST AS MUCH FUN!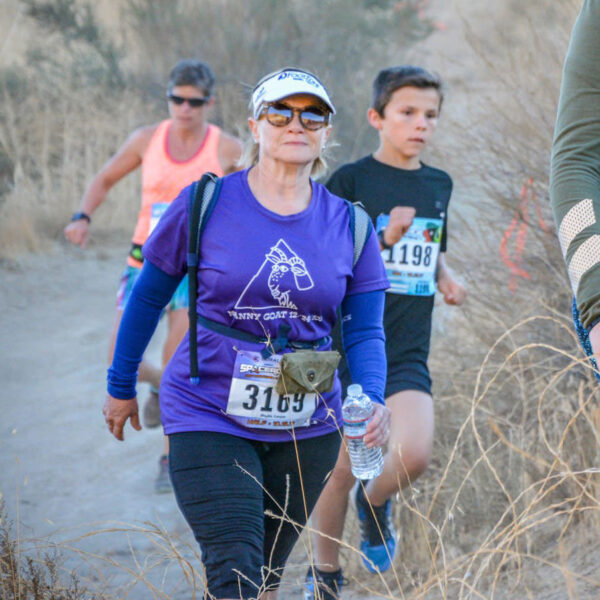 Phyllis Casper
If you haven't got the SPACEROCK trail under your belt yet. I highly recommend you sign up for 2018. Fun, organized, fabulous swag bags, energetic people and great location.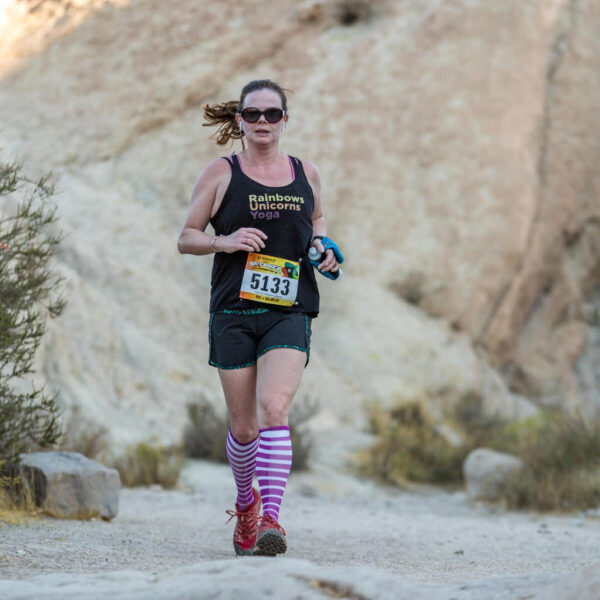 Carrie Chasteen-Elfarra
Challenging and beautiful course. What better way to spend your morning with friends and soon to be friends?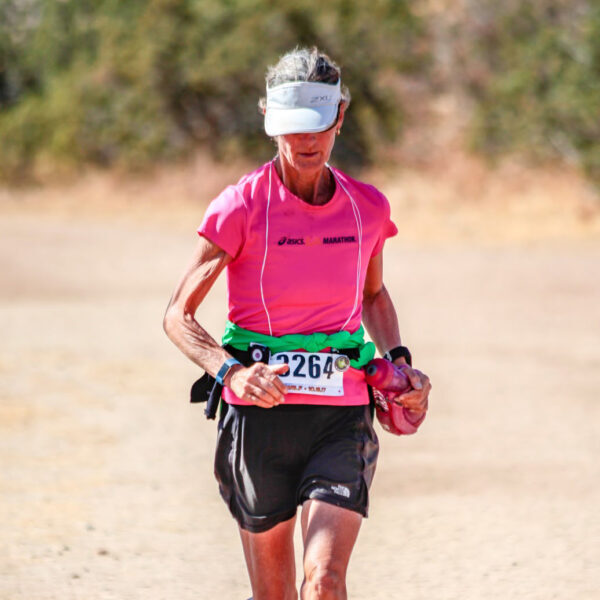 Sharon Watkins
Another great event. The course is challenging, and the staff and volunteers are the best.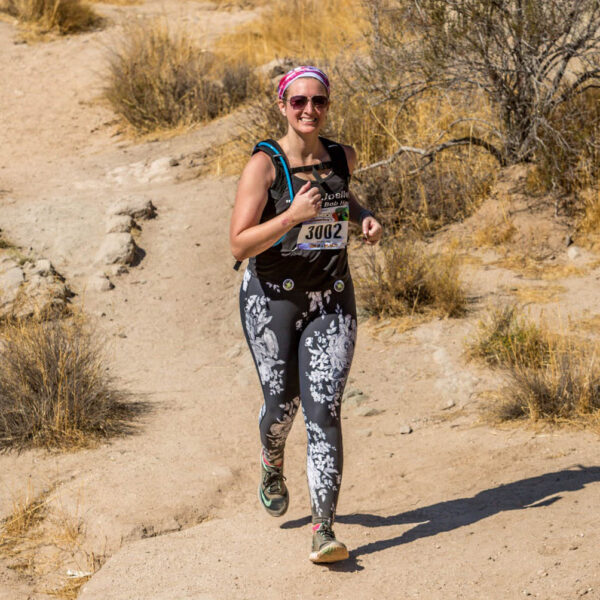 Jennifer Jzyk
This was the most challenging course I've ran (and my first trail course). It was rewarding to finish it!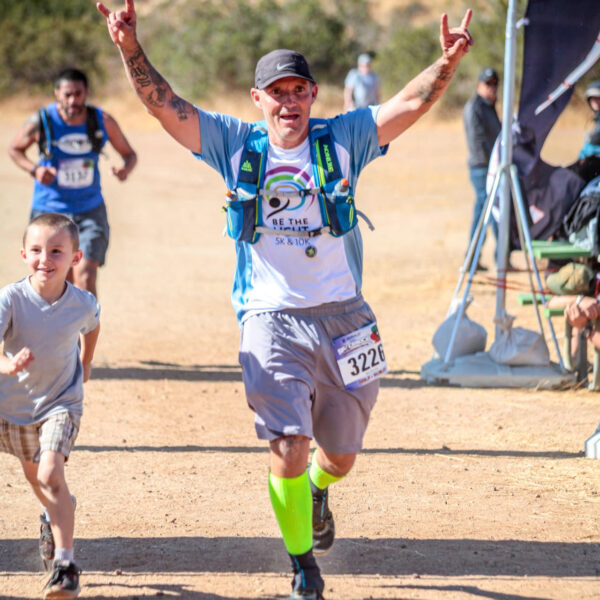 Bob Sharits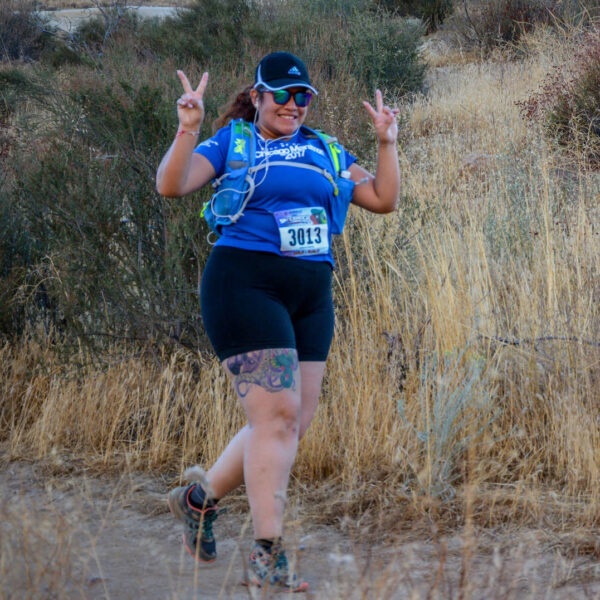 Johanna Galvan
Breathtaking and beautiful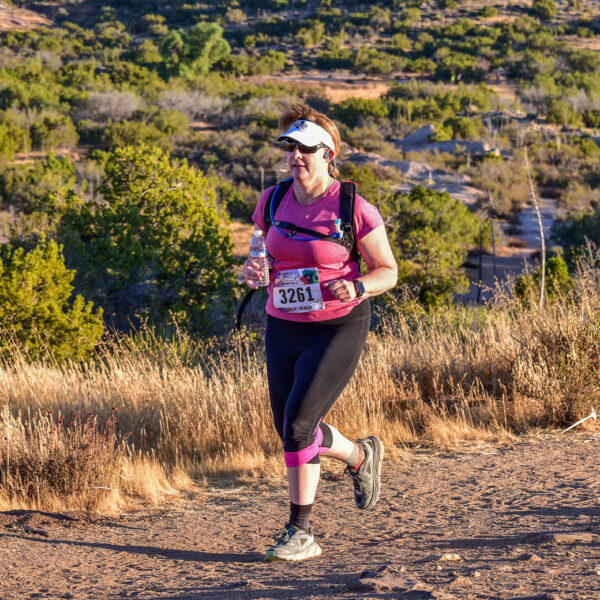 Amanda Wong
Very beautiful trail! Do not underestimate the hills & especially the downhills. I will be back for next year.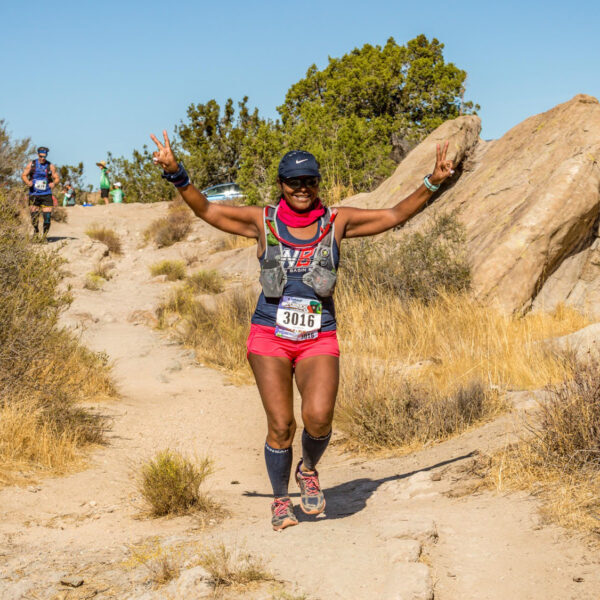 Ana Saravia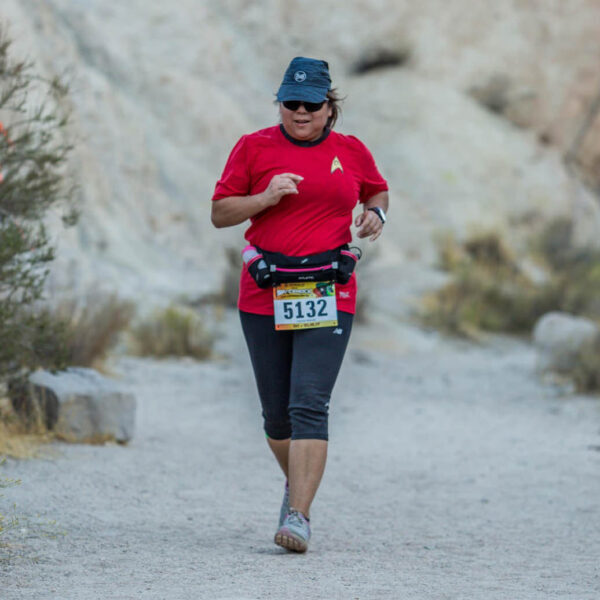 Joanne Kakuda
This is a tough race but well worth the effort. The volunteers are great and free photos!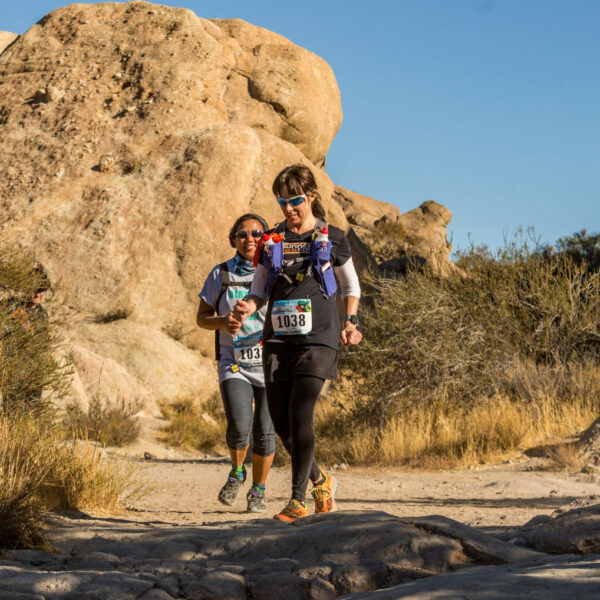 Sheri Ehlen
Had a great experience! I am a trail wimp but Terry and Jenny make it doable for me even though I'm scared. Great organization and the BEST BLING. Hoping for an even blingier ( is that a word 😜) bag next year!!!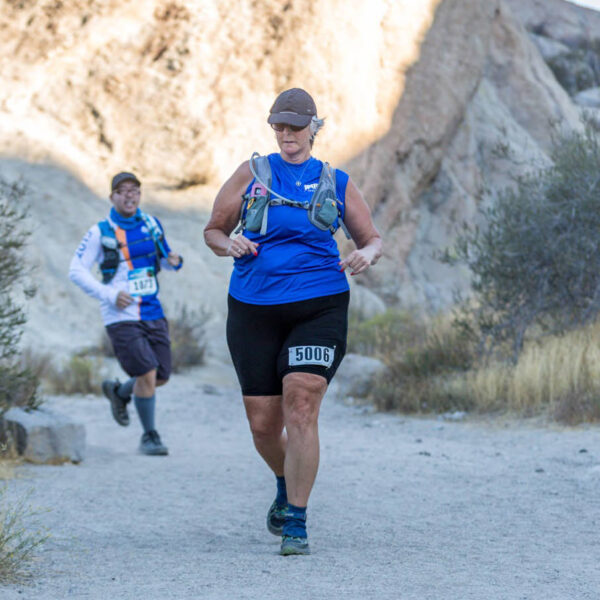 Jayme Cascegno
I had a wonderful time I can't wait until next year will be doing the 10k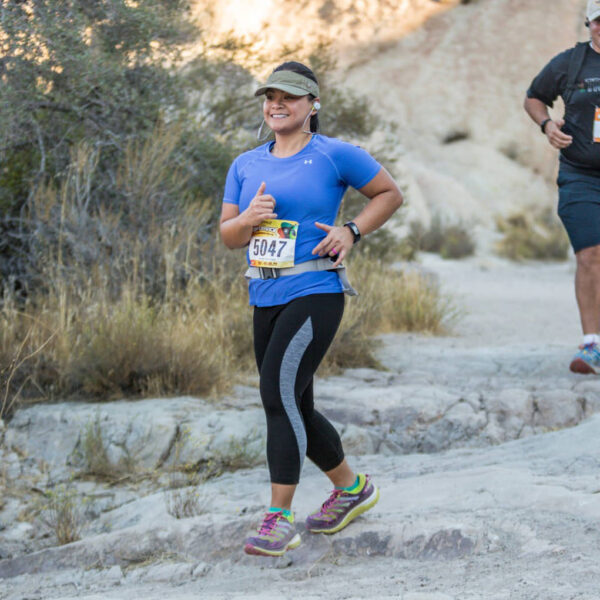 Jennifer Spurgeon
Fantastic views, almost makes you forget the pain during the run.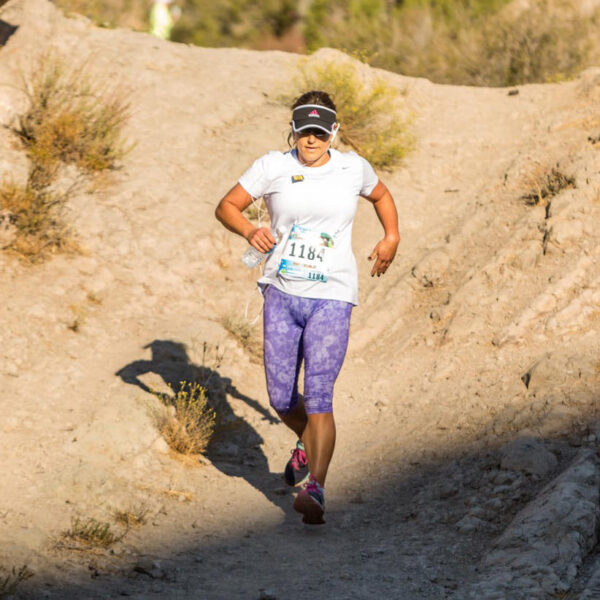 Wendy DeLisio
This was an awesome race! I love the course, it was challenging but exhilarating. My son and I will be back next year for the 1/2 Marathon.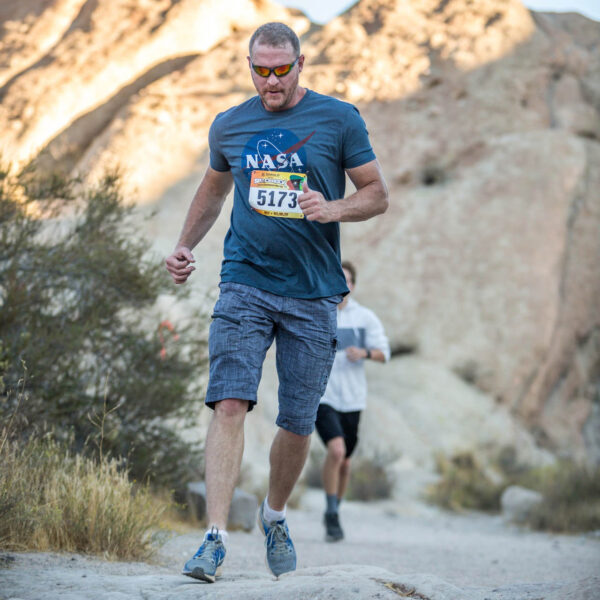 Bill Bruce
I run a lot of Obstacle Course and trail races. I Highly recommend the SpaceRock Trail Race. I drove up from San Diego and the drive was worth it. Intimate, friendly atmosphere for the race. Stick around and "explore" after the race, you will be glad you did.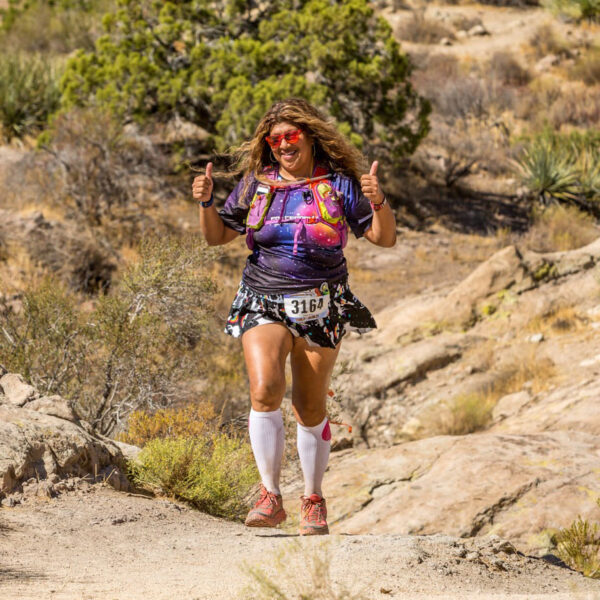 Luisa Rivas
SPACEROCK is a trail race that took my running to a higher level, from heaven to Nirvana!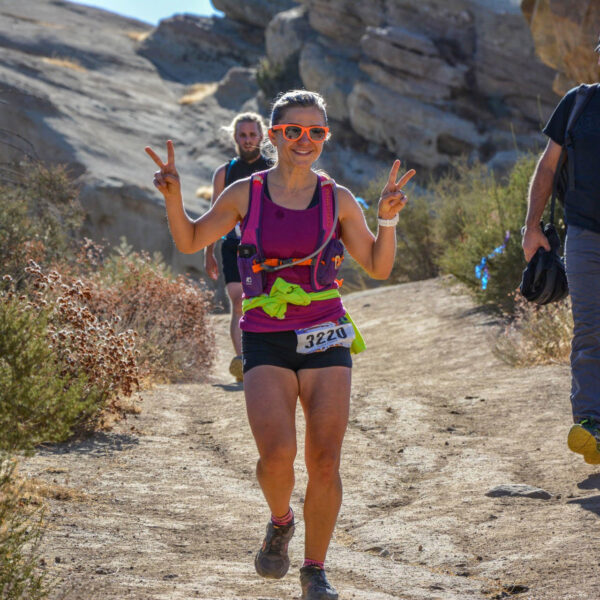 Pavlina Fojtikova
Beautiful scenery, challenging course, one of the harder trail HM for me!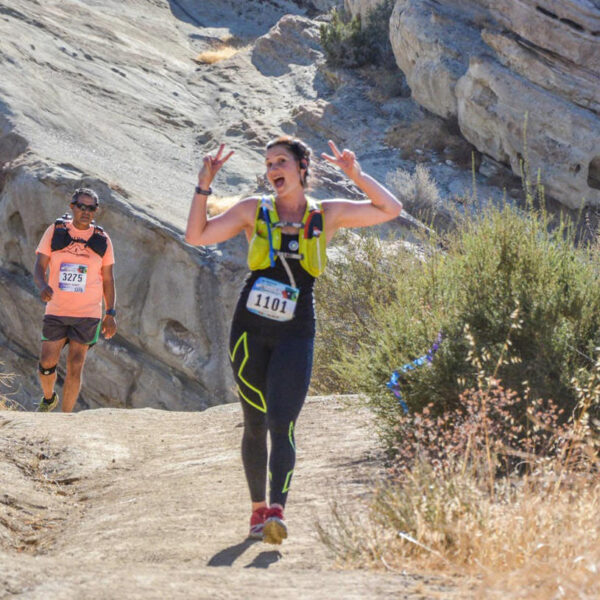 Amanda Csiszar
This was my first half marathon and it was so worth it! Beautiful and challenging course! I will definitely be a return participant every year!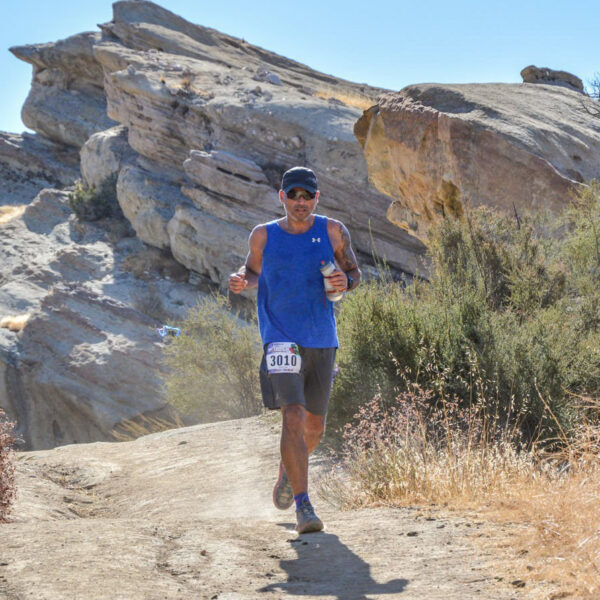 Daniel Vela
Really well organized! Amazing/challenging course, beautiful weather, and fun people. Already on my calendar for next year.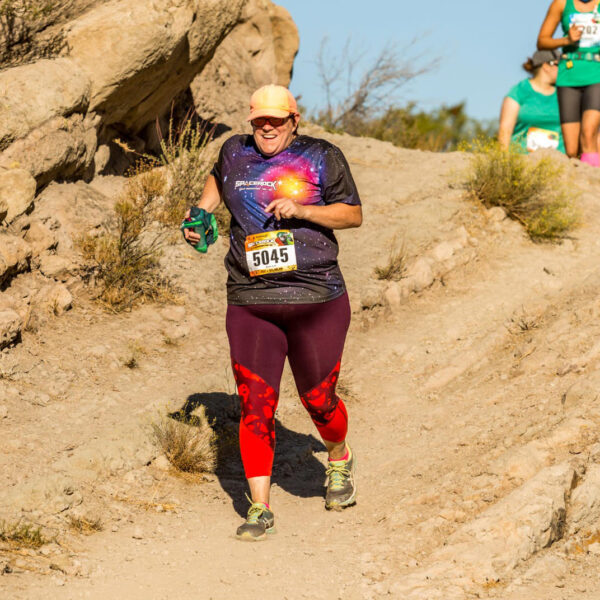 Anita Eoff
Mind over Matter, up and over the hills we go!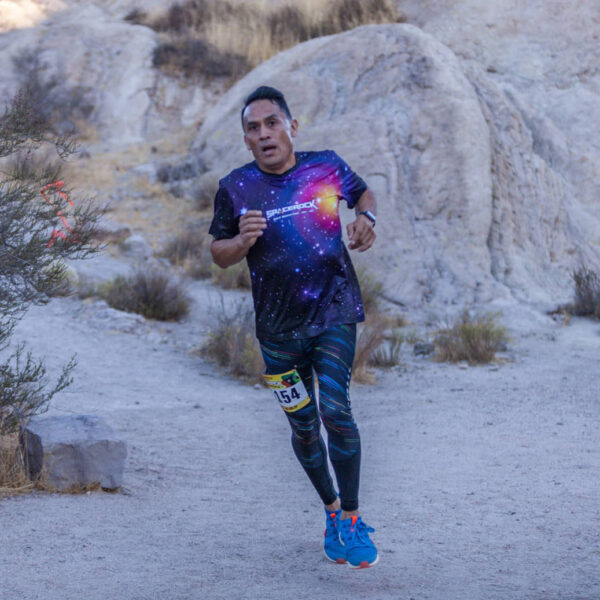 Martin Vega
The views are out of this world.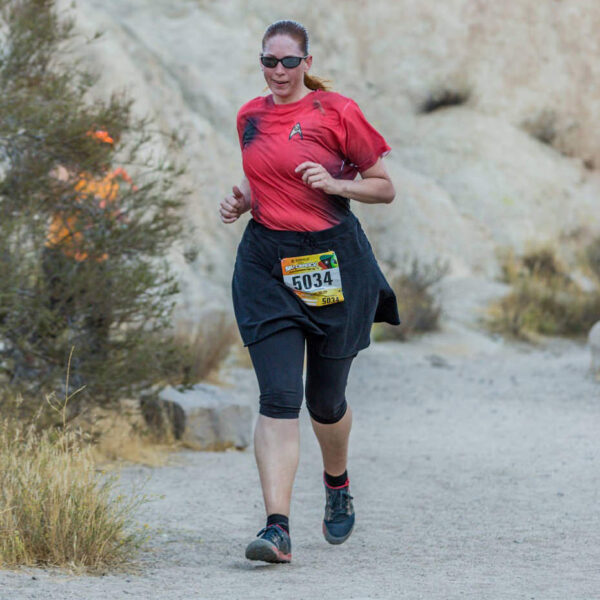 Ginny Lukaszewski
I was impressed with the organization of everything and support for the runners. Everything from the scenery to the support for the runners was great, and I enjoyed the challenging course. I've recommended this race to my friends, who will join me next year!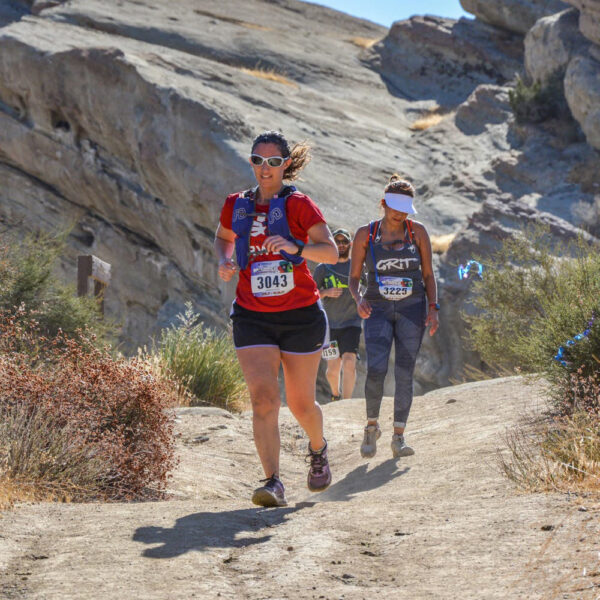 Catherine Christ
Awesome race experience with outstanding support!! Challenging but gorgeous course. Can't wait for next year.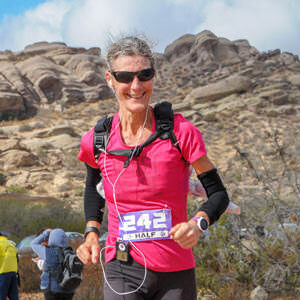 Sharon Watkins
I loved this race. The course was both challenging and beautiful, and the race staff and volunteers were top-notch. I can't wait to do it again next year!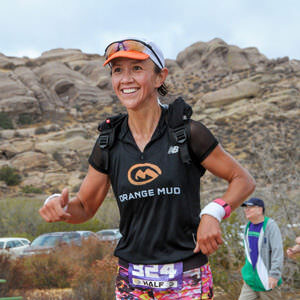 Rachel Ragona
Yet another fantastic inaugural event by New Global Adventures. Shuttles, coffee and awesome gear check bags at the start; challenging, well marked course with beautiful views; great volunteers, and free photo downloads afterwards. Really a fun, welcoming atmosphere too. This race hits all the right buttons and is definitely one you'll keep coming back to.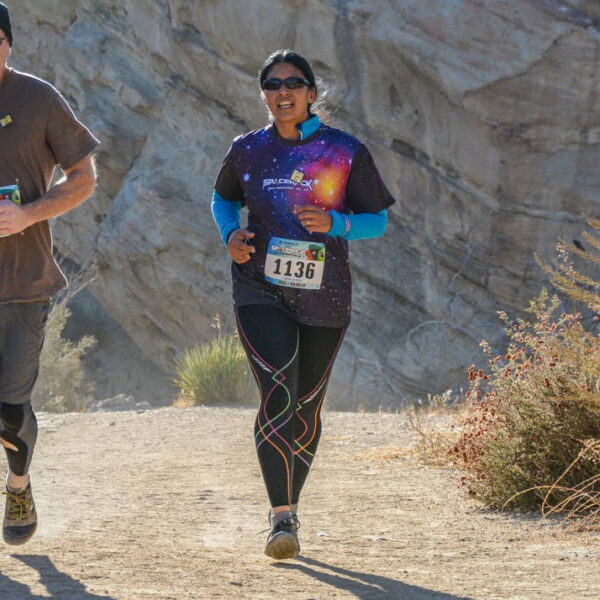 Kumari de Silva
The race coordinators were more than understanding about my recent cancer diagnosis. I got sicker faster than I expected. In June I was regularly running 10, 11 and 12k, but by Sept I could barely complete 8k and in October when I tried a trial SpaceRock I could only finish 6k. . . so I asked them to disqualify my time. I decided to just run for fun. They said I could drop down to 5k if I wanted. When I got the 5k/10k split I saw a sign for me (!). It buoyed my spirits. I surprised myself by being able to complete the whole 10k 🙂 smiles. Surgery is Friday. Fingers crossed. I'd love to come back and compete next year!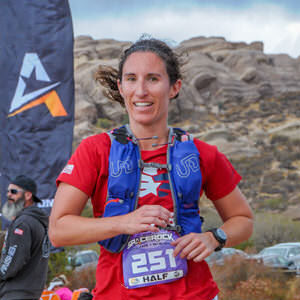 Catherine Christ
Incredible race experience with an amazing group of volunteers. Very well run race and can't wait to sign up for next year!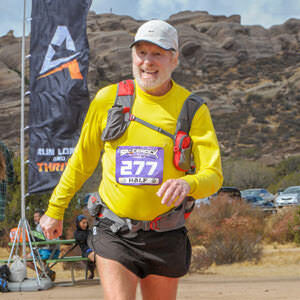 Laurie Loon
This is a 13.1 miler that feels like a 20 miler or more.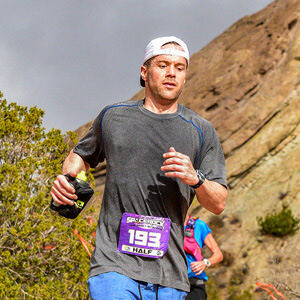 Alex Blecksmith
The scenery, landscape and elevation made this a challenging and memorable race.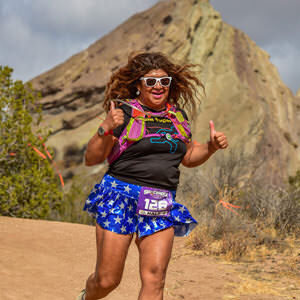 Luisa Rivas
SPACEROCK Trail Race definitely took my running to Nirvana!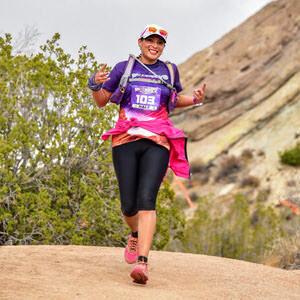 Mariela Mariscal
Beautiful, challenging, and scenic course!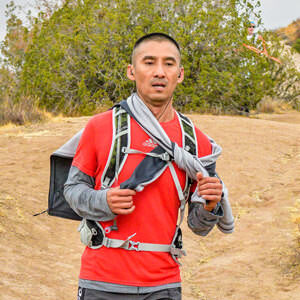 Livath Xayasane
SPACEROCK Trail Race is by far one of the best events you can do in SoCal.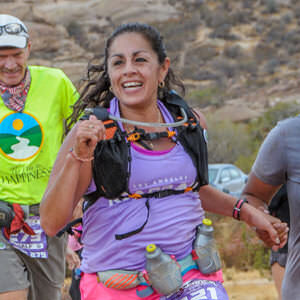 Patricia Hernandez
Wanna challenging & beautiful experience? Run SPACEROCK Half Marathon!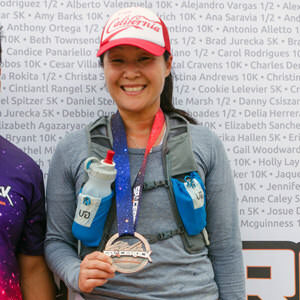 Julie Shin
Awesome race!! I will be back for this race in the future.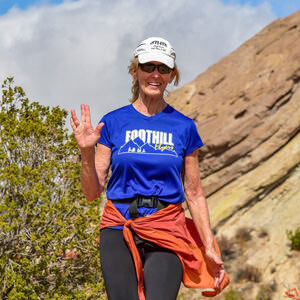 Maria Vangilder
The SPACEROCK half marathon was out of this world!!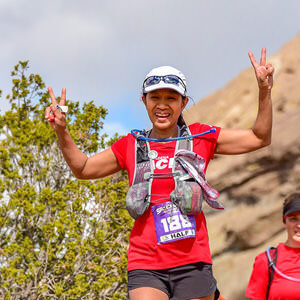 Wella Raceles
Thank you SPACEROCK for such a breathtaking and brutal yet the most enjoyable race ever!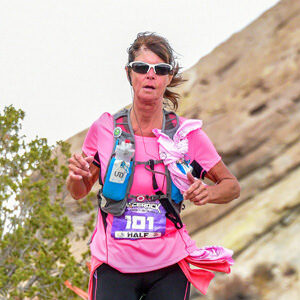 Janet Dempsey
I ran the inaugural Spacerock trail half and the course tough and beautiful ! Everything from packet pick up to course markings was perfect . A must do every year!!!!! Great job and thank you!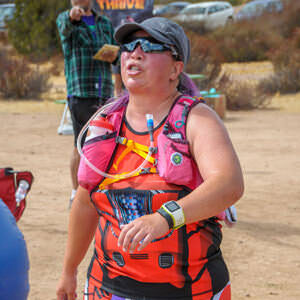 Rose Kwok
Spectacular views, awesome aid stations! Very enthusiastic & encouraging.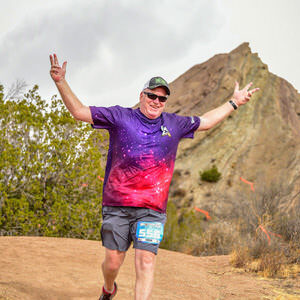 Eric Sorenson
The Inaugural Spacerock Trail Race was literally an out of this world event. A very scenic, challenging and fun race that will become an annual event for my friends and I........you definitely took trail racing to a whole new level.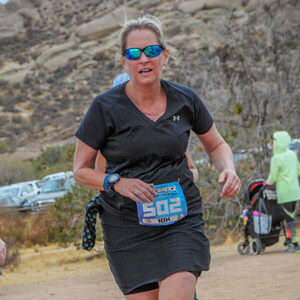 Sally Andrade
My friends and I had a blast at this race - worked hard and enjoyed every minute. The scenery was amazing, and the swag was awesome. Everyone is jealous of our pictures and our shirts - hopefully they will join us next year!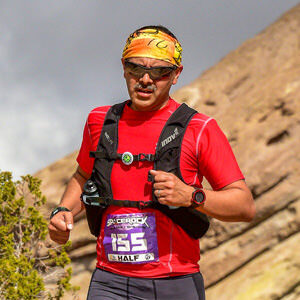 Guillermo Cabrera
An out of this world trail race.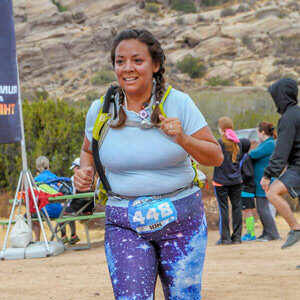 Melissa Cierra
This is only my second trail race and I am so glad I signed up for it. The course is challenging and scenic. It was clearly marked, thank goodness, because getting lost was a big concern for me. Luckily, there was nothing to fear. The staff and volunteers are all friendly and helpful. Participants were kept well informed, there were plenty of race photos, and of course the goodie bags, shirt, and medal were top notch! This is a great race, and I look forward to doing it again next year!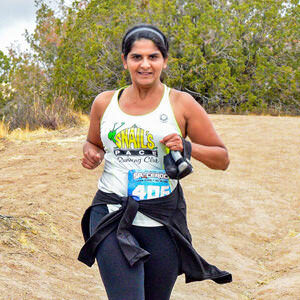 Suzie Gulshan
This trail race was in a beautiful location, well managed and the support was beyond exceptional. Well marked with flat and fast sections combined with challenging hills. I will come back every year.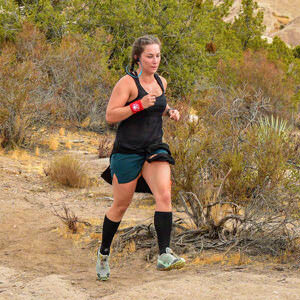 Emma Parvizi
For my first 5k ever I am excited and pleased that I was able to share it with GritOCR and the Spacerock crew! Thanks for my introduction and I can't wait to see you next year!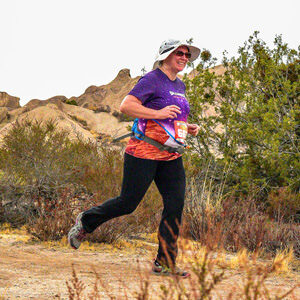 Katherine Townsend
Great trail, great volunteers, great vibe, great event! Can't wait for next year.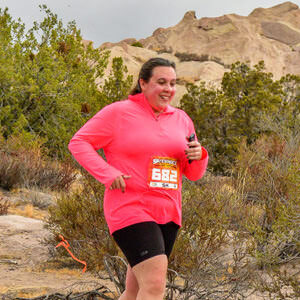 Holly Layman
So glad my friend and I did this race! Awesome location, great volunteers - couldn't ask for a better experience!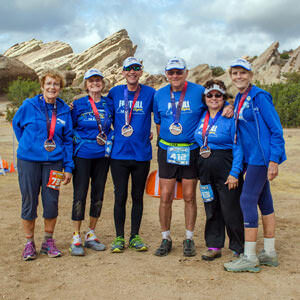 Mary Plazony
Challenging but doable. Outstanding scenery.
Race Day: Saturday, October 5, 2024
Register today to secure your spot, then start training for an out-of-this-world trail race!
We are currently accepting sponsors for the 2024 race, grow your business as a sponsor at the 8th annual SPACEROCK Trail Race!
Thank you to our 2023 sponsors for helping to create a spectacular race experience!